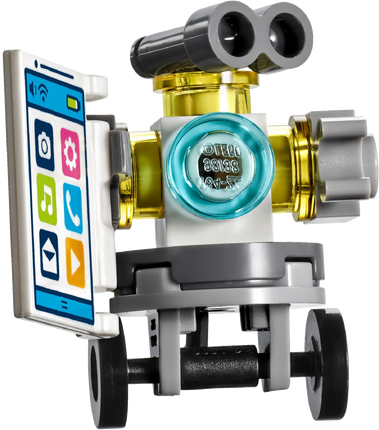 This article uses material from the "Zobo" article on the LEGO Friends Wiki at FANDOM is licensed under the Creative Commons Attribution-Share Alike License.
Zobo is a character from the LEGO Friends - Girls on Mission animated series.
Olivia's robot and overall assistant for the FRIENDS.
In the AWA fics, Zobo debuted in All Worlds Alliance Stories Chapter 28.
Overview
Olivia invented Zobo in her workshop as a science fair project. She controls him with a remote. He likes fixing things, and can be found joining the girls on their adventures all around Heartlake City. Sometimes he seems a bit funny, when he doesn't understand human things.
Olivia also created a mini "Family" for Zobo, making Zobo the father, Zuzu the mother, and Zobito the son (kid). Zuzu is not commonly found in most episodes, but Zobito and Zobo are. Zobo helps Olivia in her science projects, and Olivia is constantly updating him with new, interactive features.
Trivia
He is the only figure in the theme to be released made of bricks, and the only character not to be a minidoll figure or an animal.
In the 2018 Reboot Series, Zobo has the ability to take photos with his eyes.
Also from the 2018 series, Zobo has a tracking device to locate the Mission Vehicle should it be moved from where it is parked.
Zobo (2018) has a holographic projector in his chest dome.
In the 2018 series, Zobo often speaks in random phrases, but it is eventually revealed he can speak normally, he just chooses not to.

He can also make whistling noises.
Gallery
Community content is available under
CC-BY-SA
unless otherwise noted.