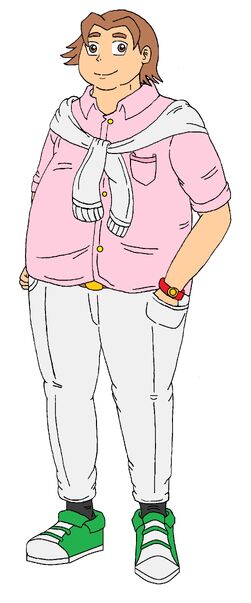 Yuuji Kitao is a character from the XP4 Series of Fanfics.
Yuuji is a 23-years old young man, and senior adviser of Anna Maymorie and the others.
Yuuji debuted in the XP4 Heroes Coalition - Mission Chronicles.
Appearance
Yuuji is an overweight young male adult with a round face, a shoulder-length brown hair and brown eyes. He is wearing a pink poloshirt with a white sweater wrapped around his shoulders, white pants, dark socks and green & white rubber shoes.
Personality
Not much is known about Yuuji but is a calm and excellent man, and also hardworking. He also gives advice to rookie staff members.
XP4 Fanfics
Yuuji is currently working in the Heroes Coalition as a Control Center Officer and a chief staff member. He also works at the Vanguard Academy as a staff member.
XP4 Heroes Coalition - Kick-Off!
In Chapter 5, Yuuji's voice was heard when Son Gohan made a call to him.
XP4 Heroes Coalition - Mission Chronicles
In Chapter 1, Yuuji is seen walking in the halls of the Training Camp before entering the Control Room to meet Chihiro Fujisaki and Jeremie Belpois. After monitoring the heroes tasked to eliminate the invaders in an amusement park at West Coast Pop, they are joined by Terrence Ohno and declared the heroes' mission close to success.
Trivia
Yuuji shares a room with Taco Talberts, Terrence Ohno and Dan Gotanda.
Yuuji's original goal in life was to open a bakeshop but lacks the funds, so he decided to join the Coalition to earn money. He's currently on his way out of the Coalition.
According to XP4Universe, his ideal voice actor for Yuuji are Brian Posehn (Newton from Sym-Bionic Titan) and Shuuya Nishiji (Yutaka Honda from Shirobako).
Community content is available under
CC-BY-SA
unless otherwise noted.