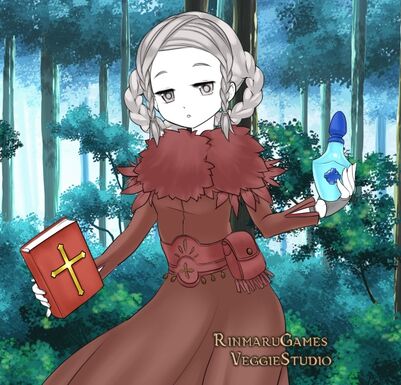 Undine Nerida is a character from the XP4 Series of Fanfics.
Undine is an eighteen years old Huntress from the World of Remnant.
Undine was once a student of the Beacon Academy and is a member of Team LUNA. After the destruction of Beacon, her whereabouts are unknown.
Undine later joins the Heroes Coalition where she is reunited with the rest of Team LUNA. She also attends at the Vanguard Academy as a student.
Appearance
Undine is a small petite girl with a shoulder-length curly, silver hair that is tied in braids and has a silver eyes, and a pale skin tone. She wears a brown dress coat with furred & feather collar, brown belt with a small bag, brown pantyhose and boots.
Personality
Not much is known about Undine. However, she seems to be soft-spoken and would often calls others with friendly yet insulting names.
According to Roka Shirogane, Undine is an oddball and a lunatic.
Abilities
Undine's Semblance is yet to be revealed and demonstrated.
She is a spellcaster but mostly uses a whip in fighting. She is yet to demonstrate her fighting skills.
Trivia
Undine's name means a female spirit or nymph inhabiting water.
Undine's last name, Nerida is derived from Nereids from the Greek Mythology.
According to XP4Universe, his ideal voice actress for Undine are Tara Strong (Raven from Teen Titans) and Minori Chihara (Yuki Nagato from Melancholy of Haruhi Suzumiya).
Community content is available under
CC-BY-SA
unless otherwise noted.