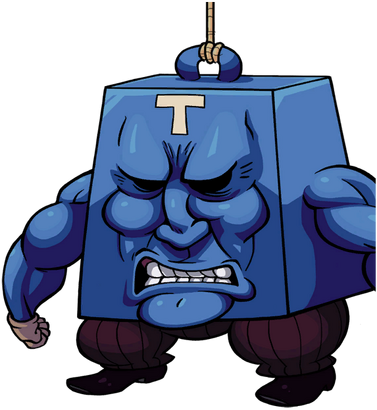 This article uses material from the "Tommy Ten-Tons" article on the Skullgirls Wiki at FANDOM is licensed under the Creative Commons Attribution-Share Alike License.
Tommy Ten-Tons is a character from the Skullsgirls game.
Tommy is one of Peacock's minions.
In the XP4 fics, Tommy debuted in the XP4 Heroes Coalition - Neo-City Diaries.
Appearance
Tommy is a living blue ton with muscular arms and short legs, he wears a pinstriped pants and black leather shoes.
XP4 Fanfic
Tommy is a member of the Heroes Coalitions and is part of the Peacock Gang. He also attends the Vanguard Academy as a student.
XP4 Heroes Coalition - Neo-City Diaries
In Chapter 15, Tommy, alongside the rest of the Peacock Gang, reunited with Dr. Michael Pating in the decimated Lab 8 at New Meredian and were convinced to join the Heroes Coalition.
Abilities
Tommy assists Peacock for two of her attacks. He is one of the Level 2 falling items for Peacock's Shadow of Impending Doom attack. He, along with the rest of Peacock's friends, joins in beating the opponent during the Goodfellas Blockbuster.
Tommy is also present in two of Doubles Blockbusters. Double takes his form during her Bandwagon Rushdown Blockbuster and her Nightmare Legion Blockbuster.
It is speculated that he may assist his friend Andy Anvil in combat if he is ever to be released as a playable character. Andy would team up with Tommy for a variety of coordinated attacks. For example, Tommy could walk along the stage and serve as a slow moving shield. If Andy or the enemy sweeps him, Tommy falls over, causing the ground to shake and inflicting damage, or stunning any enemy touching the ground. If Andy strikes Tommy with a big hit, he might send Tommy across the screen like a torpedo.
Trivia
Tommy shares his name with Tom, Ottomo's pilot.
Peacock based Tommy off of the large blocky scientist who works in the lab.
Gallery
Community content is available under
CC-BY-SA
unless otherwise noted.