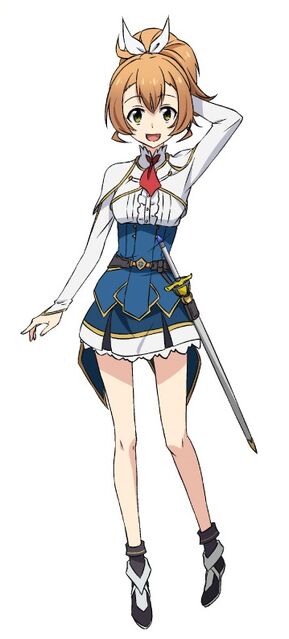 This article uses material from the "Tillfur Lilmit" article on the Saijaku Muhai no Bahamut Wiki at FANDOM is licensed under the Creative Commons Attribution-Share Alike License.
Tillfur Lilmit is a character from the Saijaku Muhai no Bahamut light novel and anime.
One of the members of the Triad with a bubbly and energetic personality. She is a second year and is classmates with Lux, Lisha, and Philuffy. She pilots a Wyrm.
In the XP4 fics, Tillfur is a member of the Heroes Coalitions and is an honorary member of the Cross Guards. She also attends the Vanguard Academy as a student.
Appearance
Tillfur has light-brown hair tied in a ponytail with a white ribbon bow and has yellow eyes. She usually wears her Royal Officer Academy Uniform.
Personality
Tillfur is easygoing and laid-back, she loves to tease and would take advantage of situations for her own profit.
Abilities
Tillfar uses a yellow Wyrm, Drag-Ride.
Trivia
Tillfar is a terrible cook.
Tillfur is childhood friends with Shalice and Noct.
Gallery
Community content is available under
CC-BY-SA
unless otherwise noted.