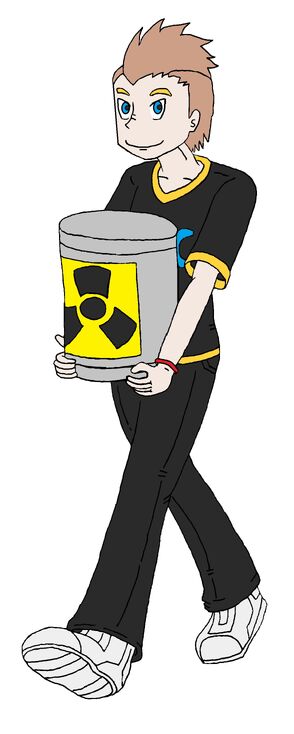 Taco Talberts is a character from the XP4 Series of Fanfics.
Taco is a 20 years old young man and is bane to everyone's existence.
Taco debuted in the XP4 Heroes Coalition - Neo-City Diaries.
Appearance
Taco is a slim-young man with a brown temple faded mohawk hair and bright blue eyes. He is currently wearing a black t-shirt with the words 'AC/DC' written in blue highlights as a logo, black skinny-jeans and white sneakers.
Personality
Not much is known about Taco. But from Anna's point of view, Taco is nothing but a troublemaker and often cause a lot of blunders.
XP4 Fanfics
Taco is currently working in both Heroes Coalitions and Vanguard Academy as a staff member in a role of assistant.
XP4 Heroes Coalition - Neo-City Diaries
In Chapter 22, Taco is seen in the staff room somewhere in the Training Camp while playing with a blender without noticing Dan Gotanda standing behind him with murderous looks.
Trivia
Taco is hated by Anna to the bone. But he remains oblivious to it.
Taco once assigned a similar mission to Gingka Hagane and the Vegan Police which led into an argument.
Taco once messed up some documents that Anna carefully sorted.
Taco shares a room with Yuuji Kitao, Terrence Ohno and Dan Gotanda.
According to XP4Universe, his ideal voice actor for Taco is Pete Williams (Gimpy from Undergrads) and Kappei Yamaguchi (Taro Yamada from Sister Princess).
Community content is available under
CC-BY-SA
unless otherwise noted.