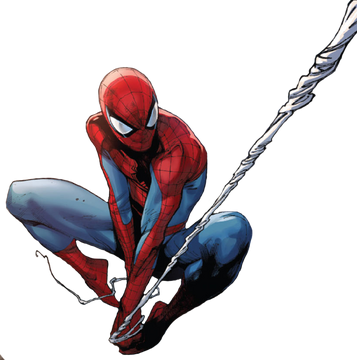 Peter Benjamin Parker, also known as Peter Parker and Spider-Man, is a major character from the Marvel Comics.
Peter was bitten by a radioactive spider as a teenager, granting him spider-like powers. After the death of his Uncle Ben, which he could have prevented, Peter learned that "with great power, comes great responsibility." Swearing to always protect the innocent from harm, Peter Parker became the Amazing Spider-Man!
Personality
Peter Parker is shown to be a loyal, friendly, highly intelligent but shy and socially awkward 15 year old teenage superhero. Since the start of his superhero career, Peter kept his Spider-Man identity a secret from the world and to avoid joining school bands and football teams in an attempt to protect his powers and identity.
Abilities
Spider-Man possesses the proportionate powers of a spider, granted to him from an irradiated Common House Spider (Achaearanea tepidariorum) which bit Peter Parker that was apparently already mutated from prior exposure to certain frequencies of radiation and received a final, lethal dose during Parker's attendance of the exhibition.
The radioactive, complex mutagenic enzymes in the spider's blood that were transferred at the time of the bite triggered numerous body-wide mutagenic changes within Parker, granting him superhuman strength, speed, toughened flesh, and numerous arachnid-like abilities. Like many superhuman powers, the effectiveness of Spider-Man's abilities varies based on the author and the needs of the story.
Spider-Sense
Spider-Man has many abilities but the most amazing of all is his uncanny Spider-Sense. It is a tingling sensation on the back of his skull that acts as a "sixth sense" and it manifests when he is around or targeted by incoming dangers. It's a precognition ability that is pheromone based and is similar to Daredevil's radar sense, increasing his reaction time and awareness. The spider-sense can manifest when Peter's secret identity is about to be compromised. It also manifests when he encounters someone who might pose a threat to him or to someone he cares about. For example, when Peter saw his roommate Michele Gonzales with one of her clients, his spider-sense warned him that the client was actually a thug who was participating in a super-villain gladiatorial contest. While the spider-sense cannot discern the specific nature of the impending threat, he can identify which direction it is coming from and the severity of the danger by the intensity of the spider-sense. Sometimes it becomes strong enough to be painful. When Spider-Man is blinded, the Spider-Sense works as another set of eyes to avoid bumping into objects. When Daken used his pheromones on Spider-Man, Peter closed his eyes and relied only on his spider-sense to defeat his foe because the pheromones corrupted his sight. A similar situation happened when Peter fought the new Vulture who blinded him with acid in the eyes. Spider-Man relied on this ability to survive this fight. Of course his Spider-Sense is a great help when he faces people in the dark. This has been proven in his fight with Iron Fist. The spider-sense can lose its effectiveness when Peter is too distracted, tired or when he chooses to ignore it although its difficult to do so because it is heavily linked to his reflexes. There were also times that his spider-sense wasn't very effective due to the Spidey's previous lack of formal training, but this has since has been largely rectified since learning the Way of the Spider. Under extreme circumstances, such as fighting in the dark or against powerful characters, Spidey has often used his spectacular spider-sense in a more effective and better way. The Spider-Sense also gave him his own free-style form of combat, allowing him to go head-to-head with the best martial artists in the Marvel Universe and his H2H skill has improved significantly since merging his Way of the Spider training with his Spider-Sense. Furthermore, the Spider-Sense also allows Spider-Man to detect certain radio frequencies on which his spider tracers' signals are based upon. During Spider-Man's first encounter with the Chameleon, the villain used a certain radio frequency to send a message to Spider-Man via his spider-sense. The Spider-Sense, combined with his speed and reflexes allows Spider-Man to dodge almost all conventional attacks. Due to the similar nature of their powers, Spider-Man is unable to sense other "Spiders", such as Ben Reilly, Ezekiel, and Kaine. During the Big Time story, Spider-Man used a device to block Alistair Smythe's minions' enhanced senses, but also disabled his own Spider-Sense. After the events of Spider-Island, Peter regained this ability.
Superhuman Strength
Spider-Man has the proportionate strength of a spider, thus allowing him to press 10 tons without effort and much more when under stress. His attacks are so strong; they could kill a normal person- Spider-Man has to pull his punches or kicks when not fighting foes with similar or higher strength levels to avoid fatalities. His strength also extends to his feet, allowing him to leap great lengths and attain a heights of much greater three stories with one powerful jump. Spidey's strength has made him capable of going toe-to-toe with opponents including Doctor Octopus, Venom and Rhino. He has even held his own against powerful heroes such as Iron Man and the Hulk. It's also shown that Spider-Man can break free from Doctor Octopus's nearly indestructible arms albeit with much effort, although this was due to the Sinister Six suit enhancing his strength. Spidey's strength and durability also give him incredible stamina allowing him to exert himself beyond the limits of humans as his body produces less fatigue toxins. He was able to fight Morlun continually for many hours, and has stated an ability to hold his breath for at least twice as long as non-enhanced humans. After his encounter with the Queen, Spider-Man's strength had been increased to the point where he has become able to lift over 15 tons without effort and after the Other story arc he was able to lift at least 20 tons without effort. During that time, he wore an Iron Spider costume designed for him by Tony Stark which increased his strength further allowing him to lift over 25 tons without effort. He has stopped wearing the Iron Spider costume after the Civil War and his enhanced strength was erased by Mephisto after the One More Day storyline. Spider-man's best strength feats tend to come during periods of emotional duress- for example in a fight with Iron Man 2020, where when a boy was injured mid fight, an enraged Spider-Man jumped up to his flying height and hit him with such force the foe was sent flying hundreds of feet into a building, which was destroyed on impact. Another instance was when he lifted a segment of the Daily Bugle, after the building was attacked by the Green Goblin. In both cases, he didn't have any enhancements from the Queen or the Other.
Superhuman Speed, Agility, Flexibility and Reflexes
Spider-Man possesses the uncanny speed, agility and reflexes of a spider. He can move at a speed that surpasses that of the finest human athletes. This is particularly evident over short distances. He has frequently speed-blitzed many foes- including those with enhanced speed and reflexes, moving so fast that he leaves blurring after images. He has been described as moving with the speed of machine gun fire, moving faster than the eye can follow, and moved so fast that Daredevil (who has enhanced reflexes and senses) could barely register him, and was unable react to a punch he was knew Spider-Man was going to land. Over longer distances, his speed seems less pronounced, but he was still able to outrun Kraven and his cheetahs (both of whom can run at over 60 mph) and has easily outran speeding cars. However, this could be due to his preference of Web-Slinging over longer distances than due to an inability to maintain higher levels of speed over longer distances. Spider-Man can easily perform the most complicated acrobatic moves as his body is extremely flexible, giving him agility, balance and bodily coordination that surpass those of the finest human athletes. Spider-Man is considered the best when it comes to balance in the Marvel Universe, as he possesses excellent equilibrium allowing him to balance himself on any object. Even some of the most agile street-level heroes like Captain America, Daredevil and Wolverine are nowhere near Spider-Man's level of speed and agility. Spider-Man's reflexes are forty times greater than peak level humans, and when combined with his Spider-Sense, speed and agility, enable him to dodge bullets and other conventional projectiles with ease. During the Grim Hunt storyline, he even dodged sniper rifle fire at point blank range- after the bullet had been fired.
Superhuman Durability
Spider-Man also has incredible durability to blunt trauma as his body is much tougher than that of a normal person. He can withstand such levels of damage and punishment that would kill non-super powered individuals. For example he has frequently taken blows from characters with high levels of superhuman strength (Hulk, Venom, Rhino, Puma, Green Goblin etc) without sustaining significant injury. He has also survived the force of having a building collapse on him multiple times. This durability extends to falling from great heights. For example, he was once knocked through three buildings by Mr Negative before falling multiple stories to the ground, yet still remained conscious. His durability to blunt trauma also extends to explosive forces, and he has taken explosions with the force of a hand grenade and recovered nearly instantly in a recent fight with the Juggernaut. In the Sins Past Storyline he tanked a building destroying explosion, but was significantly weakened afterwards. The toughness of Spider-Man is such that he often rolls with the blows of punches thrown by non-powered foes to avoid injuring them- when he once decided to tense his abdominal muscles against the blows of a trained boxer, the boxer broke his wrists. Scorpion once described Spider-Man's body "as being as hard as concrete".
However, Spider-Man's durability isn't nearly as formidable against penetrative forces. He can be hurt by knives and bullets much in the same way that normal humans can, and has been rendered unconscious by a tracking bullet which pierced his shoulder. Normal bullets also tend to cause Spider-Man problems as well. When he lost his Spider-Sense and faced a villain known as Massacre who utilized multiple weaponry and traps, Spider-Man decided to make a bulletproof suit from tech at Horizon labs. However, if injured by such forces, Spider-Man healing factor allows him to heal much faster than normal humans can.
Wall Crawling
Spider-Man's exposure to the mutated spider venom induced a mutagenic, cerebellum-wide alteration of his engrams resulting in the ability to mentally control the flux of inter-atomic attraction (electrostatic force) between molecular boundary layers. This overcomes the outer electron shell's normal behavior of mutual repulsion with other outer electron shells and permits the tremendous potential for electron attraction to prevail. The mentally controlled sub-atomic particle responsible for this has yet to be identified. This ability to affect the attraction between surfaces is so far limited to Spider-Man's body (especially concentrated in his hands and feet) and another object, with an upper limit of several tons per finger. Limits to this ability seem to be psychosomatic, and the full nature of this ability has yet to be established. Spider-man utilizes this ability in his locomotion across New-York, but also has the ability to use it offensively, in a manner resembling the Mark of Kaine. Spider-Man rarely uses this ability though, due to its brutal and disfiguring effects. It also works differently, ripping off layers of skin and muscle, rather than burning it as Kaine does via the HCL secreted through his palms.
Organic Webbing
There are different areas in different comic book universes where Spider-Man has organic webbing, which is often shown as being stronger and more long lasting than his synthetic variants. Spider Man has organic webbing from the movies (of course) and 616 (end of civil war, back in black, etc.) Spider Man also has organic webbing in the 2099 universe. It seems the strength of his webbing relates directly to his health.
Superhuman Stamina
Spider-Man's advanced musculature produces less fatigue toxins during physical activity than an ordinary human. This allows him to exert himself physically for much longer periods of time before fatigue begins to impair him. At his peak, Spider-Man can physically exert himself at his peak capacity for many hours before the build up of fatigue toxins in his blood begins to impair him. He once fought Morlun for many hours continuously, and has stated an ability to hold his breath for at least twice as long as non-enhanced humans.
Regenerative Healing Factor
Spider-Man has a limited healing factor. While not on Wolverine's level, it is sufficiently powerful enough to recover from severe injuries from broken bones and large amounts of tissue damage in a matter of days. After getting his powers, he soon found that his eyesight was repaired, discarding his glasses. During a battle with a villain called the Masked Marauder, Spider-Man is rendered completely blind, however after about 2 days his sight was perfect, albeit sensitive for about a day after. In another instance, he suffered multiple broken bones, trauma, and blood loss when he was defeated by the Rhino, but was fine in the next issue.
Foreign Chemical Resistance
Due to his accelerated metabolism, Spider-Man has a higher tolerance for drugs and diseases than normal humans, and he can recover from the effects of larger doses rapidly. During an encounter with the Swarm, Spider-Man was incapacitated by thousands of bee stings, but recovered in less than 24 hours. In another example, he was able to recover from the effects of gases nearly instantly. His resistance and recovery time to other toxins and diseases varies, but is typically significantly higher than normal. Spider-Man's unique physiology even allowed him to recover from the effects of vampirism. Spider-Man was able to recover completely from acid being spat into his eyes by the new Vulture; Jimmy Natale, although the extent of the damage may have been restricted due to his superhuman durability. However, Spider-Man has the normal human tolerance for alcoholic beverages.
Superhuman Sight
Spider-Man also seems to have at least some degree of Super-Human sight, at least in order to assist his Superhuman speed, reflexes and agility. Ever since obtaining his powers, he has not needed his glasses, and has frequently pulled off impressive aiming feats with his webbing, although this is assisted with his Spider-Sense. Perhaps most impressively, during Spider-Island, a depowered Hercules with Spider-Man's power-set said he could see bullets in slow motion.
Skills
On top of his spider-given powers Peter is of genius level intelligence. It has even been stated that Peter scored as high on some of the same testing scores as Reed Richards did when he was Peter's age. He is especially gifted in the sciences such as mechanics, biology and physics. This has become particularly apparent during his time working at Horizon Labs, where he was able to create a device to drain Alpha of his powers in less than 24 hours.
He has built many devices in his career as Spider-Man and is a skilled photographer and teacher. He has developed a unique style of combat through the years. Spider-Man, even before his training from Shang-Chi, has gone toe to toe with even the best marvel fighters. His spider-sense alone is like a close combat expert and combined with Spider-Man's reflexes and physical attributes, make it very difficult for Street-levelers to defeat him when he is not holding back.
Upon approaching the Spider-Island arc, Peter felt vulnerable with the lack of his spider sense. He began training under Shang Chi to create his own unique martial arts style to make up for his lack of spider sense called the "Way of the Spider". It was then revealed that Shang Chi was instructed by the new Madam Web (Julia Carpenter the former Arachne and Spider-Woman) to secretly prepare Peter for a future threat (Spider-Island). This style consists of among other things, hitting pressure points with Spider Strength, and striking with Spider Speed. This new martial art has considerably improved Spider-Man's H2H capabilities, and so far he has stalemated Julia Carpenter and effortlessly defeated 3 spider-powered individuals in a few seconds during Spider-Island. When he regained his Spider-Sense, he defeated a mutated Kaine who was considerably stronger and quicker than him, and effortlessly trumped a mind controlled Spider-Woman, in handful of blows and kicks.
Weapons and Equipment
Web Shooters
Perhaps, Spider-Man's most famous piece of equipment is his self built web-shooters which allow him to shoot sticky ropes of webbing which he uses to swing from building to building. They are a pair of special wrist devices of Peter's own design that contain a material that mixes with air to web-like material. They can be used in many different ways by varying the pressure and adjusting the nozzles of the spinnerets. They can take the form of strong thin lines, as fine quick spreading lines, or as a thick adhesive liquid. Spider-Man can either use the webbing as web-gloves to protect his hands, as a Web-Parachute, an air-proof Web-Dome, a Web-Shield that offers protection from bullets and energy blasts, as small "web-bullets" that bounce off opponents, use the webbing to ensnare an opponent, tie foes up with a rope and hang them upside down from vertical poles, pulling his foes towards him, or shoot them in any direction he chooses Spider-Man's primary means of transportation is by the use of his webbing to swing around the city. He shoots a strand of webbing to a high location, like the edge of a building, and pushes his body towards any direction he chooses while holding on to the web, allowing him to traverse at an accelerated speed. This artificial webbing lasts for an hour before fading away. More recently he has evolved biological web shooters that spray webbing from his forearms but this power has been erased by Mephisto after the One More Day storyline.
Utility Belt
Spider-Man wears a belt under his costume that contains a built-in Spider-Signal. He uses it as either an unconventional light source or as a way to intimidate lesser villains. The belt also contains spare web cartridges, tracers, the camera and his mask when not in costume.
Camera
Spider-Man possesses his father's automatic camera which zones in on the spider symbol on Spider-Man's chest. It takes photos whenever movement is made in front of it. He would place the camera in a certain spot and springs into action in front of it, allowing him to take photos of himself. As Spider-Man he uses the camera to capture his heroic exploits to then sell the photos to the Daily Bugle.
Spider-Tracer
The Spider-Tracer is a typical tracker that is shaped liked a spider and is aerodynamic for flight. The tracers are very small so it will not be noticed when attached to a person. The tracers contain a special radio frequency that his Spider-Sense can detect. He usually uses the tracers to track objects or people via his Spider-Sense within a 100 mile radius. Spider-Man fires the tracers at high velocity using his web-shooters and he has them coated with webbing in order for them to be firmly attached to their target. Since Peter lost his Spider-Sense, the use of the Spider-Tracers is rendered obsolete since he can only track them using his enhanced senses.
Mask
The white areas in Spider-Mans eye cut-outs on his mask are really clever plastic lenses of the two-way mirror type. He can see out very clearly, but no one can see in. Therefore, he can never be recognized by the color of his eyes. These ingenious plastic lenses also protect his eyes from dust, dirt, and the glare of the sun. Spider-Man's colorful head-mask conceals his facial features and expressions and also effectively muffles his voice, making it unrecognizable. When using the Iron Spider-Man suit, it changed his voice in many ways. When Spider-Man became an Avenger, a special comm-link was outfitted into his mask allowing him to communicate with his fellow Avengers as well as others.
Spider-Mobile
The Spider-Mobile would first appear in The Amazing Spider-Man #130 in 1974. Spider-Man would be approached by Corona Motors who offers him a non-polluting vehicle in which they wanted him to promote. However, Peter turned it down and approaches his friend Johnny Storm to create their own vehicle. They customized a dune buggy to have web-launchers and a spider-signal. It could also be disguised as a regular car so that no one would suspect that he was Spider-Man. Spider-Man would put it into action but it is quickly wrecked because Mysterio tricked Peter into driving it off a pier. Later the Tinkerer would be able to recover the wrecked dune buggy and re-modify it to be able to drive up walls and to drive itself. The Tinkerer sent it to fight Spider-Man, in which he would barely defeat his own car.
Equipment since working at Horizon Labs
At Horizons Labs, the combination of a well paying job and access to numerous tech has allowed Peter to expand on the equipment he uses. So far he has developed a Spider-Glider, Thermodynamic Foam, Cryo Pellets, voice activated web-shooters and various types of webbing, including magnetic and acidic variants. Many of the equipment have usage in day-to-day usage as well- for example the cryo pellet technology was used to help keep organs and limbs viable for longer periods of time. The Thermodynamic foam also has use in the stopping and prevention of fires.
Spider-bots
Dock ock created specific spectators which keep watch of new york, saving spider-mans the trouble to patrol.
Trivia
Spidey might have the most adjectives. He has Amazing, Spectacular, Sensational, and his favorite, Friendly Neighborhood Spider-Man. He was called the Bombastic Bag-Man, when he borrowed a Fantastic Four costume with a Brown Bag Mask. When Venom acted as him during Dark Reign, Venom was called the Sinister Spider-Man. He is also the Avenging Spider-Man, as a member of the Avengers. And the Fantastic Spider-Man as a member of the FF.
He's called "Tiger" by Mary Jane and "Pete" or "Petey" by many of his friends.
The people of NYC and various other heroes call him "Spidey" or "Web-head" at times.
Peter got bullied in high school because he was a nerd; meanwhile, Spider-Man gets treated like a criminal by the same media that worships all of the other super-heroes. In the case of J. Jonah Jameson, he treats mutants (the feared and hated minority of the Marvel Universe) better than he does Spider-Man.
In recent events, he's finally able to use his technical skills to make a living — and a good one at that. Peter is now the CEO of his own company, Parker Industries — employing most of is former colleagues from Horizon Labs — and gets paid a very sizable salary to develop new technologies. When he started at Horizon, Aunt May recalls him asserting his dreams of working as a scientist to Ben as seen in one of the older comics.
Gallery
External Links
Community content is available under
CC-BY-SA
unless otherwise noted.