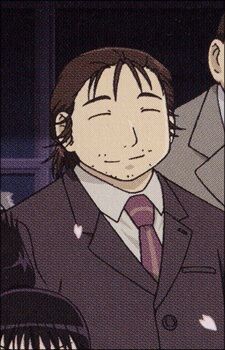 This article uses material from the "Souichiro Tanaka" article on the Genshiken Wiki at FANDOM is licensed under the Creative Commons Attribution-Share Alike License.
Souichiro Tanaka is a character from the Genshiken anime and manga.
Tanaka is perhaps the most skilled member of the Genshiken. He can design Cosplay outfits with ease (he is even able to tell someone's measurements by just looking at them in a bathing suit) and he is also an excellent model maker. He's arguably the most down-to-earth member of the group. He later becomes Kanako's boyfriend.
In the AWA fics, Souichirou made his debut at Chapter 16 of All Worlds Alliance Stories.
Appearance
Tanaka has long brown hair tied to a ponytail, with short bangs. Tanaka's face is usually stubbled here and there. Like typical otaku, he generally wears baggy hoodies and cargo shorts. He generally has a relaxed expression on his face, but it can change quickly when he's angry.
Personality
Tanaka is an easy going and pleasant person in Genshiken. He usually stays out of arguments and keeps a cool head. He is a meticulous person, and this trait has translated well into his preferred hobbies, which is sewing costumes and putting together model figurines. Tanaka's skill as a seamstress is so great, he can eye a body in a bikini and get close to the exact measurements.
Tanaka's temper is rarely seen, but he becomes incensed when people show disregard for his figurines. Also, once he's in a relationship with Ohno, he occasionally has streaks of jealousy.
Trivia
Tanaka started out as just one of the guys in the Genshiken club. Later on, as Ohno joins the club and professes her love for cosplay, the two quickly become partners in crime.
Tanaka is also an expert plamo (plastic model) builder and is not afraid to teach anyone who is willing to learn. While well-versed in many areas of model and figure culture, Tanaka is personally not experienced with figure-modeling, but attempts to learn by sculpting a model of Shinobu from Kujibiki Unbalance.
Gallery
Community content is available under
CC-BY-SA
unless otherwise noted.