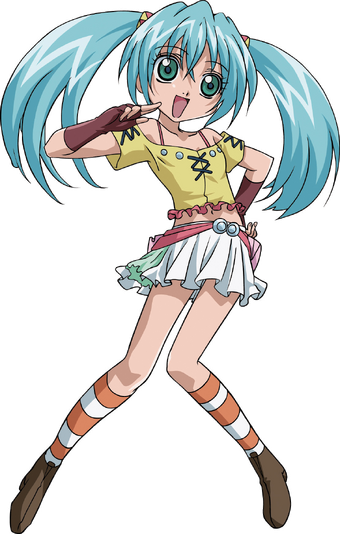 This article uses material from the "Runo Misaki" article on the Bakugan Wiki at FANDOM is licensed under the Creative Commons Attribution-Share Alike License.
Runo Misaki is one of the main characters from the Bakugan Battle Brawler anime and manga.
Runo is a girl who loves playing Bakugan against skilled people so she can show off. Runo helps her parents run their family business in a cafe.
Runo is a Haos brawler and her Guardian Bakugan is a Haos Tigrerra (the others being Terrowclaw and Saurus), who is very obedient and powerful in battle. 
In the XP4 fics, Runo is part of the Heroes Coalitions as a trainee. She also attends the Vanguard Academy as a student.
In the AWA fics, Runo is a student at the AWA Academy.
Appearance
Runo's outfit in Bakugan Battle Brawlers is a yellow midriff shirt and a white skirt with a pink belt. She has maroon fingerless wrist gloves. She also has orange and white striped knee socks and brown shoes. Her hair is tied in two long pigtails.
In New Vestroia, Runo's outfit is a yellow shirt and white dress with pink designs.
In Mechtanium Surge, Runo wears a white shirt, a blue waistcoat, a red tie and khaki shorts.
Personality
Runo is very focused, not your typical pre-teen girl. She loves playing Bakugan with her friends. Runo is always arguing with her friend Dan. She has a close bond with her Guardian Bakugan, Haos Tigrerra, who is very obedient to her and powerful in battle. One of the things she hates the most is when people believe they're better at brawling than her, just because she is a girl. She loses a lot of her Bakugan to the Doom Dimension, to a point where she almost quit the game, but she then decided not to.
Runo is arguably the most headstrong heroine throughout the four series of Bakugan, as she always wants to have her own way in everything, wants attention from people, and often attacks head-on before carefully judging the situation. She is also very proud and is eager to go her own way.
Despite having certain, undeniable flaws, Runo is shown to be a caring, kind and cute girl who always tries her very best in everything and never slow to help her friends. As time passes between the seasons, she seems to have grown more mature.
Abilities
Runo is overall a skilled Brawler. She was ranked sixth at the end of the first series, and has only lost five brawls, her first brawl with Masquerade (the best Brawler at the time), her second loss was against Shun Kazami (the second best Brawler at the time), her third loss was against Masquerade again, in which she purposely lost and went to the Doom Dimension so she could help Dan Kuso, her fourth loss was against Dan Kuso (third best Brawler at the time) and her last loss was in Bakugan Battle Brawlers: New Vestroia, where she brawled against Mylene Farrow and Lync Volan alongside Mira Fermin.
Runo's style of battling is not always bright or well-thought out, as her personality is a little rash and stubborn, however during such times or when she carefully plans out her tactics, her strategies are effective often resulting in her victory.
Trivia
Runo's name means "Beautiful blossom like a gem means "beautiful gem", while is "Such as a gem."
Runo, Dan, and Julie are the second youngest out of the six original Battle Brawlers.
Out of all the Battle Brawlers' Haos brawlers, Runo is the only human.
Runo and Alice are the only original brawlers who never got involved in the Neathia-Gundalia storyline in Gundalian Invaders or the first arc of Mechtanium Surge.
Runo is similar to Fabia in several ways.

Both are Haos brawlers.
Both are the main female brawlers of their debut series.
Both of their Bakugan were owned by another Haos brawler.
Both have a crush on Dan.
Both have blue hair and green eyes.

Runo's hairstyle makes her resemble the Japanese Vocaloid Hatsune Miku.
Runo's first season outfit looks a bit like Zoe Drake's arcade outfit from Dinosaur King. They both have pigtails, tank tops, a yellow bare-shoulder jacket, and high socks. They are also the leading female protagonist in their respective show's first series.
Gallery
Community content is available under
CC-BY-SA
unless otherwise noted.