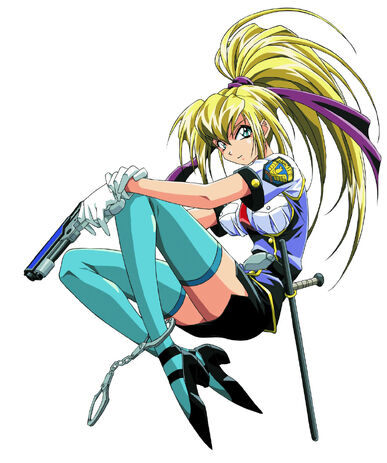 Rio Kinezono is the main protagonist to Burn Up W, Burn Up Excess and Burn Up Scramble anime series.
Rio is a member of Team Warrior.
In the XP4 fics, Rio debuted in XP4 Heroes Coalition - Kick-Off!.
In the AWA fics, Rio is listed as a purchased slave from the Slave Fortress.
Appearance
Rio has a long blonde hair tied in a high-spiky ponytail by a purple laced ribbon and has blue eyes. She wears a white police uniform with a red necktie underneath a blue buttoned corset, black office skirt, teal thigh-high socks and black heels.
In missions, Rio wears a black fullbody skintight suit with red linings, a red chestplate armor and white & red shoulder armor, black-cuffed gloves and red thigh-high boots. She wears a blue visors.
Personality
Rio likes to look good and loves buying pretty things. Unfortunately, her spending habits keep her in eternal debt, so she's always looking for good-paying jobs to support her lifestyle. She has a desk job working for the police in Policetown and counts on work with Team Warrior to pay her bills. Always trying to find the easy way out, she tries to hook up with any rich guy she can find in the hopes that he'll be able to buy her all the pretty things she desires. 
XP4 Fanfics
Rio is a member of the Heroes Coalitions and is part of Of Guns and Magic. She also attends at Vanguard Academy as a student.
XP4 Heroes Coalition - Kick-Off!
In Chapter 10, Rio, alongside her team, Of Guns and Magic, are seen in the kingdom of Reste Sig where they had a mission to defeat the rebellion going against the Royal Blomma Family. After driving away the rebels, Rio and everyone were ordered to stay in the kingdom for a while until all rebels are captured which they complied.
Abilities
Rio trained in martial arts and is always the person leading an attack. She is also skilled with various firearms.
Trivia
Rio is a revision of Maki from the original Burn Up!
Gallery
Community content is available under
CC-BY-SA
unless otherwise noted.