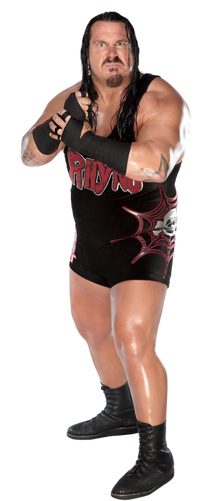 Rhyno, also known as Avenger, Rhino, Rhino Richards and Terry Richards, is an American professional wrestler, politician and actor. Mostly known from ECW, WWE, Total Non-Stop Wrestling and Ring of Honor.
Built as tough as an American-made automobile, The Man Beast from Detroit has had more than a few crash tests in the squared circle. 
Rhyno began his career wrestling for small companies in Canada where he became close friends with future ring allies Christian and WWE Hall of Famer Edge, but he first rose to national prominence in the original incarnation of Extreme Championship Wrestling.
Rhyno didn't just defeat opponents. He ended them – barreling through his rivals like a full-steam-ahead locomotive.
In the XP4 fics, Rhyno is currently working in the Heroes Coalition as a Solo Hero. He also attends the Vanguard Academy as a student.
Appearance
Rhyno is a large, burly man with a long black hair, and black facial hair, and has dark eyes. He wears a black singlet with the words "Rhyno" written in front in different colors and a large "R" at the back, his arms and wrist are wrapped by black tapes and black boots.
Personality
Rhyno is a hard-working and very determined man. He is a bit hot-blooded and a bit of an alcoholic.
He has a habit of putting his partner, Heath Slater in dangerous events to toughen him up.
Abilities
Despite being short, Rhyno is no pushover, he is built like a tank as his moves are devastating.
Among his move are the Scoop Powerslam, Powerbomb, Fireman's Fire Cutter, Death Valley Driver, Belly-to-Belly Suplex, Spinning Spinebuster and the Gore.
Trivia
At Bound for Glory 2005, Kevin Nash was supposed to fight (and allegedly put over) Jeff Jarrett, but was held out due to chest pains that morning. Hence Rhino spending the night as the ultimate determinator, turning face on Jarrett, and beating Jarrett for the NWA World Heavyweight title.
Gallery
Community content is available under
CC-BY-SA
unless otherwise noted.