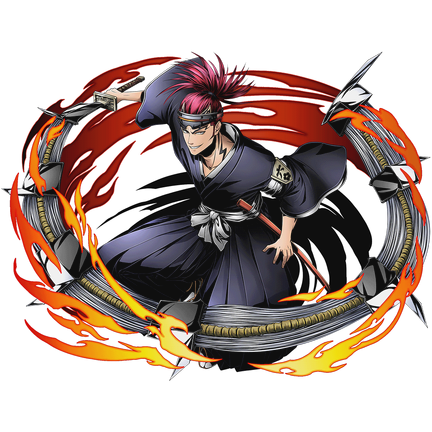 This article uses material from the "Renji Abarai" article on the Bleach Wiki at FANDOM is licensed under the Creative Commons Attribution-Share Alike License.
Renji Abarai is a character from the Bleach anime and manga.
Introduced as a recently-promoted Lieutenant of Squad 6, former member of Squad 5 and former 6th Seat of the 11th Division. He is the childhood friend of Rukia and forms a very close friendship bond with her, also highly respecting the captain Byakuya and views him as an opponent he wishes to surpass. Brash, but dedicated to his beliefs and loyal to his friends. He is also notably the next Soul Reaper, after Rukia, who eventually considers Ichigo among his true companions.
In the AWA fics, Renji is a student at the AWA Academy and is part of Class 2.
In the XP4 fics, Renji debuted in XP4 Heroes Coalition - Kick-Off!.
Appearance
Renji has brown eyes and long crimson hair, which is usually kept in a high ponytail. As a child, Renji's hairline was leveled. Later, he styled it in a large widow's-peak. His upper body is covered in tribal tattoos, which have increased over time, starting from his early days as an academy student to covering his entire back, much of his chest, his extremities, and even much of his forehead. He wears a standard Shinigami outfit, though he usually includes some sort of headgear, usually expensive glasses, or a white headband when he is saving up to purchase some new glasses. Despite being of appropriate rank, Renji does not wear his Division's lieutenant badge. While out of uniform, Renji often wears a white kimono-like type of night clothing, with pink floral patterns on it, and a dark grey sash tied around his waist. It has also been said "that the women within his Division do not mind that he usually walks around in his night clothing".
Seventeen months after Aizen's defeat, Renji's hair has grown longer and he wears a maroon colored bandanna covering all of the tattoos on his forehead. He also wears long dark straps on each wrist with bandages over his arms.
Personality
Renji is quite dynamic. His personality varies from smug and cocky to disquieted and depressed after a major defeat, but shows himself to be an incredibly serious and determined fighter when confronted with an actual threat. Willing to fight, kill, and die for whatever he believes in, Renji is a dangerous man to those who stand in his way. Yasutora Sado compares his fighting style to that of Ichigo Kurosaki. Renji is determined to surpass his captain, Byakuya Kuchiki, and it's this determination that drives Renji to grow stronger. Renji likes taiyaki (a popular fish-shaped pancake usually filled with sweet bean paste), and has a dislike for spicy food. Renji also likes futsal, and in his free time works on assembling a team from the 6th Division, with success, more or less. The current members are himself, Rikichi, and the 4th, 8th, 13th, and 20th seated officers.
All of Renji's sunglasses are purchased from Seireitei's popular Gin Tonbo store and cost half a year's worth of his pay check. However, every time he wears a pair, they are broken in one way or another. On these occasions, he replaces them with a tied white bandana, until he can purchase a new pair of goggles. His dream is to wear a pair that he himself designed at least once.
XP4 Fanfics
Renji is a member of the Heroes Coalitions and is part of the Full Force Guerilla. He also attends the Vanguard Academy as a student.
XP4 Heroes Coalition - Kick-Off!
In Chapter 12, Renji, alongside his team, the Full Force Guerilla, are seen in an empty city where they're tasked to stop Dr. Dolan Danger and his army from taking it over. After defeating Dolan's army with the doctor fleeing, Renji and the others regrouped, discussing of cleaning the city.
Abilities
Master Swordsman: Renji is highly skilled in various swordsmanship techniques. He was trained by the 3rd Seat of the 11th Division Ikkaku Madarame when he was relocated to his division. Before becoming a lieutenant, his skills were great enough to fight on par with Ikkaku's Shikai and earn the rank of 6th Seat Officer in the 11th Division. Renji is able to hold his own against captain-level fighters, and is one of the only lieutenants to have attained Bankai.
Whip Mastery: What makes Renji so effective in battle is the unique method in which his Zanpakutō operates; Zabimaru is an amalgamation of a whip and a sword. Renji is a versatile fighter because of this, and to effectively wield it is a testament to his skill. Renji has stated that Zabimaru is an extension of his body, like his arms and legs, and he has used it in a variety of ways. He can use its extension ability to attack an opponent from behind, or either the left or right, without giving away the variation of his attack until it is too late. He has considerable skill in using his extension capabilities to constrict opponents, surrounding them from various angles and then retracting Zabimaru in order to crush his adversaries.
Shunpo Expert: Knowing that Zabimaru's Shikai attacks leave him open to counter-attacks, Renji has become very proficient in Shunpo to compensate for this weak point. Renji can even keep up with captain-level Shinigami for an indeterminate amount of time. He knows enough to be informed on their higher level techniques.
Kidō Practitioner: As a student at the Shin'ō Academy, Renji showed poor skill in Kidō. Later, he is skilled enough in the use of the level 31 Shakkahō spell without incantation, but has difficulty using it in rapid succession, as some will explode on him indiscriminately. He also uses a low-level Bakudō spell to restrain multiple targets (albeit they were all unseated officers). Renji also has enough knowledge of Kidō to manipulate it for purposes other than fighting, such as using his Shakkahō spell to illuminate the dark corridors of Las Noches. However, he is only able to create a small light without reciting the full chant.
Great Spiritual Power: Being a lieutenant of the Gotei 13, Renji originally possessed high spiritual energy. Upon learning Bankai, this power increased on a scale from 5-10, with Rukia commenting that it was so high, she could not recognize it until it decreased by the end of Renji's fight against Byakuya, which caused it to become more familiar to her. This spiritual power significantly increased again when Kirio Hikifune provides him with her Reiatsu-induced food, with her noting that his power is completely different from what it was before. This is proven when Renji overpowers Mask, a captain-level combatant who previously defeated Renji soundly, with his Shikai alone during their second encounter. His Reiatsu is light red in color.
Enhanced Strength: Renji possesses great physical strength. When he swings Zabimaru toward Ichigo in their second fight, he easily tosses him into the air, and subsequently pushes him through an entire building about a dozen meters away with relative ease. During the fight with Szayelaporro's unique Fracción, Renji protects Uryū from a direct punch from one of the stronger Arrancar, using both hands, before throwing him aside. Later, by spinning Zabimaru above his head, Renji creates enough force to generate a whirlwind, blowing all of Szayelaporro's Fracción several yards away, despite their massive size. Szayelaporro stated this was a result of Renji's "brute force." Later, after seventeen months of training following Aizen's defeat, Renji's raw strength allows him to nonchalantly block Jackie's strongest Fullbring-enhanced strike, which had enough force to unearth a large portion of the ground with the shockwave, with just the back of his wrist, and effortlessly knock her out with a simple blow to her stomach using the hilt of his sword.  After training with the Royal Guard, Renji's strength increased to the point where he created a large crater by elbowing Mask De Masculine in the back of the head and stopped Mask's Star Satsujin Punch with just his bare hand.
Enhanced Endurance: During his fight with Byakuya, Renji is hit directly by every blade from Senbonzakura Kageyoshi, and when he continues to fight he is pierced by five more blades. Even after such terrible damage, he makes a last ditch effort attack, almost piercing Byakuya with Zabimaru, and finally falls defeated. He had enough confidence in his resiliency to use a full-power Hadō #31 on Szayelaporro at point-blank range, willingly taking damage as well, and later withstood having several of his internal organs crushed by Szayelaporro's Teatro de Titere, forcing Szayelaporro to instead crush his tendons in order to bring him down while noting that Renji should have been rendered unconscious by this point.
Enhanced Durability: Renji is a very durable fighter. Seventeen months after Aizen's defeat, Renji takes a direct, ground-shattering strike from Jackie's enhanced "Dirty-Boots" Fullbring unfazed. Likewise, he was able to resist the unique healing properties of Tenjirō Kirinji's hot springs without rotting away after being fully healed for a noticeable period, as well as enduring one of the Royal Guard member's punches while remaining mostly unfazed, a feat that greatly impressed the man. Later, after his training with the Royal Guard and during his fight with Mask, Renji emerged unharmed after withstanding the onslaught of Mask's Star Lariat and being hit by his Star Flash Super Nova.
Zabimaru - Zabimaru's sealed form resembles a typical katana. It has a rectangular bronze tsuba with a jagged design, and a red handle and sheath.
Shikai: Its Shikai command is "Howl". In its Shikai, Zabimaru transforms into an even longer 6-part segmented blade; each segment is wider than the one preceding it from the hilt, with 2 pick-like protrusions on the front and back of each segment, with the ones on the front much longer than the ones on the back. The segments of Zabimaru can grow in number almost without limit. The segments are connected by a stretchable thread, making Zabimaru more useful as a whip than an actual sword, however, it can serve as a regular sword just as easily, thanks to Renji's swordsmanship. Its guard and handle remain the same in its Shikai release. Because of the way its Shikai doubles as a whip, Renji states that out of all the Zanpakutō wielded by the lieutenants, Zabimaru is the most difficult to master.
Shikai Special Ability: Zabimaru has a rarely used special technique known as:

Higa Zekkō - Renji can use his spiritual power to levitate the disconnected or broken segments of Zabimaru into the air, allowing him to execute a one-shot omni-directional attack, however, Renji states that this technique is damaging to Zabimaru, as he can only use it once, and leaves him defenseless. Byakuya later comments that using this technique will prevent Renji from reactivating his Shikai for an unspecified duration.
Bankai - The true form of Renji's Bankai takes on a more compact form that is predominately worn. On his right wrist, Renji gains a gauntlet resembling the top portion of a snake's skull, with a cowl of red fur surrounding its base. A long, bony tail composed of vertebra-like structures protrudes from the back of the skull, trails behind him and hangs around his waist like a loose sash. At will, Renji can extend a large blade from the snake's mouth. Renji also gains a large cowl of light fur that hangs down from his left shoulder. Additionally, he gains a pair of pauldrons that form an armored collar, as well as additional vertebral cords that hang down from his waist.
Bankai Special Ability: Zabimaru gains special techniques when in Bankai form.

Hihiō - The cowl portion of the Bankai transforms into a large, skeletal arm that follows the movements of Renji's own left arm. Hihiō possesses considerable power, having enough strength to crush bones and effortlessly throw around large opponents with relative ease. It is strong enough to effortlessly lift up a large slab of wall and crush it into pieces with minimal force.

Orochiō - Upon Renji activating this technique, the vertebrae structure unfurls from around his waist and extends like a tail. The blade portion of the Bankai changes into a larger, serrated form.

Sōō Zabimaru, Zaga Teppō - After impaling the enemy with his blade, Renji clenches his fist, forming jaws of spiritual energy. These jaws then close down on the enemy, forming the visage of a large, serpentine skull, crushing them with its fangs. Simultaneously, Renji fires a blast of spiritual energy through the enemy. The attack is powerful enough to reduce its target to ashes.
Renji's Shikai, while durable to an extent, can ultimately sustain serious damage the longer the fight drags on. While it can withstand dangerously prolonged combat, it has limits in enduring high-level attacks that are conducted by either the enemy or by Renji himself.
Trivia
Renji ranked consistently high in the first few character polls, making the top 5 twice, but has now fallen from the Top 10 most popular characters. He ranked 23rd in the 1st, 3rd in the 2nd, 4th in the 3rd and 11th in the 4th.
His Zanpakutō, Zabimaru, in Shikai placed 7th, and its Bankai placed 36th, tying with Senna's Mirokumaru.
Renji is nicknamed red pineapple by Jinta Hanakari, a reference to the way his crimson hair is kept in a pineapple top-like ponytail. Renji also occasionally wears a shirt with 'Red Pineapple' printed on the front.
Gallery
Community content is available under
CC-BY-SA
unless otherwise noted.