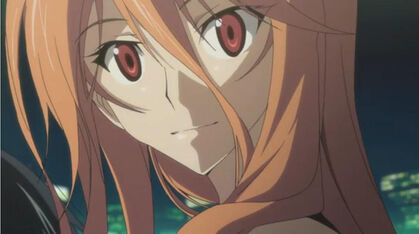 This article uses material from the "Autumn" article on the Infinite Stratos Wiki at FANDOM and is licensed under the Creative Commons Attribution-Share Alike License.
Reiko Makigami, also known as Autumn, is one of the main antagonist from the Infinite Stratos anime and light novels.
A member of Phantom Task who pilots the monstrous IS Arachne. She was tasked to steal the Byakushiki unit from Ichika during the school festival.
In the XP4 fics, Autumn is a member of the Dark Forces and is part of the Miyamoto Faction.
In the AWA fics, Autumn first appeared at Chapter 5 of All Worlds Alliance Missions - Infinite Stratos.
Appearance
Reiko has a long orange hair and red eyes, she wears a black top, dark-blue denim shorts and green boots
Personality
Autumn is a rash, hot headed, arrogant, sadistic psychopath. She is a least capable of restraining herself when she has to or is order to by Squall. She can even put on an act as a professional saleswoman when she first approach Ichika, to which shows her manipulation.
Abilities
She pilots an IS called Arachne, a eight-legged 2nd generation IS that was stolen from the USA. She is skilled enough with it to overpower Ichika but was easily bested by Tatenashi afterwards.
Trivia
Her cover identity's first name was "Ayako" in the novels, but it was "Reiko" in the anime.
In the AWA fics, Autumn was killed in the hands of Gingka Hagane and the Sniper.
In the AWA fics, Autumn is the first on-screen casualty.
Gallery
Community content is available under
CC-BY-SA
unless otherwise noted.