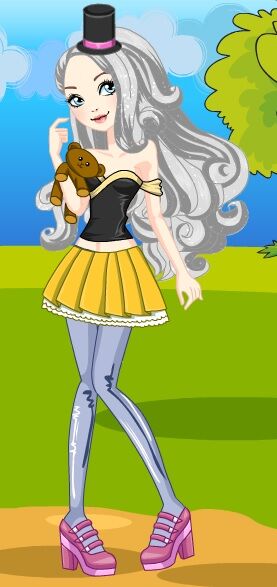 Regan Bladeworks is a character from the XP4 Series of Fanfics.
Regan is the princess from the Bladeworks Kingdom and is the best friend of Faye Bertha Conway.
Regan debuted in the XP4 Heroes Coalition - Neo-City Diaries.
Appearance
Regan has a pale skin tone, has light-blue eyes and has a waist-length luscious silver hair. She wears a a black off-shoulder top with yellow trimmings, a yellow skirt with frills underneath, silver tights, pink shoes and a small top hat on her head. She also carries a teddy bear at her right arm.
Personality
Regan is a good and loyal friend and loves adrenaline rushes. She is open and friendly, a social butterfly and really loves to party.
XP4 Fanfics
Regan is part of the Heroes Coalitions as a trainee. She also attends at the Vanguard Academy as a student.
XP4 Heroes Coalition - Neo-City Diaries
In Chapter 5, Regan is mentioned by Vegeta that she temporarily went back to her country to celebrate her mother's birthday.
In Chapter 6, Regan returns to Neo-City. She later met up with Anna Maymorie alongside Danny Fenton, Jake Long, Randy Cunningham and Rex Salazar in a corridor of the Training Facility. Regan then learned from Anna that a lot of trainees left the camp, much to her shock but Anna reassured her that training goes on. Regan then arrives at the lounge area where she met up with Sakura Kinomoto and Lyndel Flamburge, she then witnessed Nora Valkyrie violently smashing Alden Cole into the ceiling.
In Chapter 8, Regan greeted the returning, Faye Bertha Conway in front of the Vanguard Academy, and had a conversation about the Unification Ceremony. Upon entering the academy, Faye is greeted and welcomed by a lot of students with Little Joey offering to carry Faye's bags, much to her friend's gratitude. Regan and Faye then met Kazeyoshi Imai, and she then pointed out that both of them are shoe-in on becoming Crown Holders.
In Chapter 9, Regan, alongside Faye Bertha Conway, are seen walking in the streets of the Neo-City having a conversation and later met up with Marcia Imperial and Chris Pearson at the Delice dela Mode.
In Chapter 10, Regan is present during the Unification Ceremony and is later shock when Lazaris Gemstone is also chosen as a Crown Holder.
In Chapter 12, Regan, alongside Erena Reese and Maya Sparrow, are seen doing a yoga workout in the Training Camp.
In Chapter 14, Regan is seen at the bleachers of the Training Camp listening to Dan Mandel's rant over Wesley Bryans' flaws. She later glared at Dan in disapproval after Dan threw a ball at Wesley.
In Chapter 16, Regan, alongside a few, are seen eating pizza in the mini kitchen at the Training Camp when Chris Pearson and Fabia Sheen joined them. Later, Elise Pearson arrives in the kitchen, she and the others decided to leave the mini kitchen, so Chris and Elise can have a private conversation. After that, Regan and the others came back to the kitchen where Elise announced that she's joining the Heroes Coalitions, she watches the others stop Elise from killing Dan Mandel after the latter made an insulting comment to the former.
In Chapter 18, Regan, alongside Lyndel Flamburge, are walking around when they came across Marcus "The Kane" McGee in an intersection, she then witnessed Lyndel accidentally bumping onto him but Marcus managed to catch her friend and her drink. The three had a conversation for a minute before Marcus left and Regan admitted that he's a nice guy but a bit full of himself.
In Chapter 19, Regan, alongside the others, are joined by Eddy Skipper McGee, Marcus "The Kane" McGee, Eddward Marion "Double D, Edd" Smith, Edwin Horace "Ed" Williams and Rolf Yrmi in the day's training. During a training session with the Scout, Regan witnessed a wall falling on top of the Scout. Later that night and after a whole day of training, Regan took part of the little get-together at the training facility's cafeteria.
XP4 Heroes Coalition - Mission Chronicles
In Chapter 3, Regan is mentioned by Aria "Arinah" Sakurada dragging Elise Pearson alongside Lyndel Flambruge in Marcia Imperial's store.
Abilities
Regan is yet to reveal her abilities.
Trivia
According to XP4Universe, his ideal voice actress for Regan are Kate Higgins (Briar Beauty from Ever After High) and Ayano Yamamoto (Shiki from Senran Kagura).
Community content is available under
CC-BY-SA
unless otherwise noted.