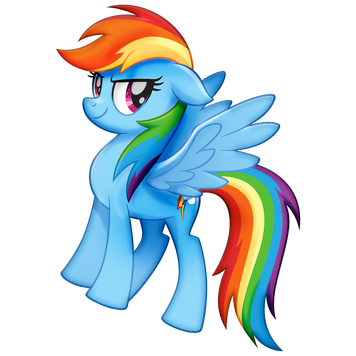 This article uses material from the "Rainbow Dash" article on the My Little Pony Friendship is Magic Wiki at FANDOM is licensed under the Creative Commons Attribution-Share Alike License.
Rainbow Dash is one of the main characters of My Little Pony Friendship is Magic franchise.
The bearer of the Element of Loyalty. A speedy Pegasus hailing from Cloudsdale who loves to race and compete whenever she can convince someone to go against her. Though Prideful and a bit arrogant, with a somewhat self-centered attitude, she's a loyal friend and a strong leader. Works as a weather manager of Ponyville.
Rainbow Dash becomes a member of the elite flying group, the Wonderbolts.
In the AWA fics, Rainbow debuted on Chapter 9 of All Worlds Alliance Missions - Rainbow Rocks.
Appearance
Rainbow Dash is a pegasus with a pale, light-gray cerulean coat and wings, with moderate cerise eyes and a multi-colored mane.
Personality
In Friendship is Magic, part 2, Nightmare Moon tests Rainbow Dash's loyalty by creating an illusion of an elite flying team called the Shadowbolts. The Shadowbolts offer Rainbow Dash a position among them, provided that she abandons her friends and their quest to find the Elements of Harmony. Rainbow Dash chooses to stay with her friends. When they confront Nightmare Moon in the Castle of the Two Sisters, Twilight Sparkle declares that Rainbow Dash represents the element of loyalty.
Rainbow Dash's loyalty is tested in The Return of Harmony Part 1. Discord shows Rainbow Dash a vision of Cloudsdale falling apart in her absence, convincing her to abandon her friends in the Canterlot castle maze.
In Rainbow Falls, Rainbow Dash faces choosing between flying with the prestigious Wonderbolts and the Ponyville team at the Equestria Games' flying relay competition. At first she secretly practices with the Wonderbolts, but she finally decides to stay with the Ponyville team.
In The Cutie Re-Mark - Part 2, in an alternate-timeline Equestria ruled by Nightmare Moon, Rainbow Dash is one of her loyal royal guards. She demands that Twilight give Nightmare Moon the information that she wants to know.
Rainbow Dash describes her passion for winning in a flashback in The Cutie Mark Chronicles. She races several times with Gilda, her old friend from Junior Speedster flight camp, in Griffon the Brush Off.
In Fall Weather Friends, Rainbow Dash loses a game of horseshoes to Applejack, and says she hates losing. She then challenges Applejack in the Iron Pony competition. In several rounds, she uses her wings to give herself an unfair advantage. During the Running of the Leaves, Rainbow Dash continues to use underhand tactics even though her wings are tied down. Applejack retaliates with tricks of her own, and both end up tying for last place. They realize that their competitive streaks got the better of them, and apologize to each other and Princess Celestia before amicably running the race again.
In Rainbow Falls, Rainbow Dash comes to the conclusion that even though she loves winning, she loves her friends "waaaaay more."
Rainbow Dash displays confidence in herself and her physical abilities in multiple episodes. In Boast Busters, when Applejack and Rarity criticize Trixie for showing off magic tricks and looking down on other ponies, Rainbow Dash adds, "Especially when ya got me around being better than the rest of us."
In Sonic Rainboom, Rainbow Dash is confident about her performance in the upcoming Best Young Flyer Competition until Rarity's magical butterfly wings get a lot of attention and admiration. Despite her insecurities, Rainbow Dash successfully pulls off the sonic rainboom and wins the competition.
In The Mysterious Mare Do Well, Rainbow Dash is venerated by Ponyville after performing heroic deeds around town, one of which being saving Aura from a deserted well. She basks in the attention of the townsfolk and her official fan club (led by Scootaloo) and becomes over-confident in herself. A mysterious cloaked pony starts one-upping Rainbow Dash's feats. Rainbow Dash eventually finds out that the cloaked pony was actually her friends in disguise, teaching her a lesson about keeping her pride in check.
Rainbow Dash and Applejack snicker at Twilight Sparkle for running a race with them in Fall Weather Friends, calling her an "egghead" for joining a race with no prior running experience except reading a book on the topic.
Upon seeing Rarity wear a scarf for a mountain expedition in Dragonshy, Rainbow Dash sarcastically says, "That'll keep you nice and cozy." Later in the episode, Rainbow Dash expresses her annoyance and frustration when Fluttershy panics over minor obstacles in the trail.
Rainbow Dash begrudgingly lets Rarity give her a makeover in Swarm of the Century with a frown on her face. When Twilight Sparkle tries to convince Rarity that she's not a laughing stock in Suited For Success, Rainbow Dash bluntly says, "She kind of is."
Rainbow Dash's bluntness isn't always called for, though. She calls a dragon lame after seeing it do a trick in Dragon Quest, but then gets her coat singed after nearly getting burnt by another dragon's fire breath. She also teases Spike about his maid outfit in the same episode before being scolded by Rarity.
In both parts of The Crystal Empire, Rainbow Dash interacts gruffly and even aggressively with some of the Crystal Ponies, first when she and her friends are interviewing the locals on how to keep the Empire safe, and later when she scares them away from the fake Crystal Heart. Later on in the second half, in an effort to keep the Crystal Faire going, she forces a hesitant Fluttershy to joust with her, and even tries to guilt her into continuing when Fluttershy voices her discomfort. In Keep Calm and Flutter On, she calls both Fluttershy and Applejack "slackers" when she comes to fetch them upon Princess Celestia's arrival, even though they were preoccupied with something to begin with.
Rainbow Dash has also been known to make snide remarks about Twilight's interests and habits, such as in Three's A Crowd when she calls the Star Swirl the Bearded Traveling Museum that Twilight was planning to attend with Princess Cadance "lame".
Rainbow Dash tries to spook her friends when they venture into the Everfree Forest for the first time, claiming that no pony has ever made it back out of the forest. Her reputation as a prankster is established in Griffon the Brush Off, where she and Pinkie Pie prank various ponies, and is further enforced in A Bird in the Hoof, when she tries to make the royal guards laugh, and in 28 Pranks Later, when she pulls a continuous string of pranks on the ponies of Ponyville.
Rainbow Dash plays several pranks on her friend Gilda in Griffon the Brush Off, which were set up for Gilda's party but are not specifically aimed at her. For the majority of the time when Gilda is visiting Ponyville, Rainbow Dash is unaware that the griffon is being callous and rude to the other ponies, but the pranks at the party get the best of Gilda, and she loses her temper in front of Rainbow Dash. After witnessing this side of her personality, she calls her out on her behavior and sends her on her way. Dash uses a cloud to create thunder and lightning to scare Spike in the same episode. She does the same to Pinkie Pie and various other ponies in Luna Eclipsed while dressed as a Shadowbolt, laughing at the ponies she frightens. She tells Twilight Sparkle that Nightmare Night "is the best night of the year for pranks" and that "it's all in good fun". She then hurries off to scare another group of ponies, which she continues doing until Princess Luna gives her a taste of her own medicine in the end. She also displays this in It's About Time, taking advantage of Twilight's worrying to spook her, along with Spike.
In Flight to the Finish, Rainbow Dash acts overly enthusiastic in front of Ms. Harshwhinny as she addresses Cheerilee's class, causing Harshwhinny to scold her for being unprofessional.
In 28 Pranks Later, Rainbow Dash gets carried away with her love of pranks and targets nearly everyone in town; some of her more extreme jokes include disguising herself as a dragon-like monster to frighten Fluttershy, replacing Cranky Doodle Donkey's hairpiece with a live skunk, and putting a brick in Mr. Cake's sandwich. Only when her friends prank her back does Dash realize that pranks have their limits.
Abilities
Pegasus Physiology: Rainbow Dash is a pegasus who is responsible for maintaining the weather and clearing the skies in Ponyville.
Fly: A standard pegasus ability.

Supersonic Fly: Rainbow demonstrated remarkable speed and agility in the air, Rainbow Dash has proven herself to be a capable and accomplished flier.

Weather Manipulation: Rainbow Dash has demonstrated her ability to manipulate the weather numerous times. She clears the skies of Ponyville of clouds "in ten seconds flat", dispersing the clouds by kicking them. She leads water droplets out of a cloud, and creates a rainbow above her when the droplets splash against her. She teams up with other Pegasus ponies to create a whirlwind that sucks away clouds and snow from Ponyville, and she creates a tornado to vacuum the parasprites.
Sonic Rainboom: This stunt is performed when Rainbow Dash flies up to the sky and flies down at speed, then releasing a a vibrantly-colored ring that expands from the point of the sonic rainboom's occurrence accompanied by a shockwave and a rainbow wake trailing behind it.
Loyalty Embodiment: Rainbow Dash possess the element of loyalty.
Trivia
In the Season 6 episode Newbie Dash, Rainbow Dash finally gets her dream and becomes a Wonderbolt
Rainbow Dash makes a cameo as a toy in Transformers 4: Age of Extinction.
Rainbow Dash is the only member of of the Mane Six to have no known siblings.
Both Rainbow Dash and Fluttershy are childhood friends who grew up in the same city.
Gallery
Community content is available under
CC-BY-SA
unless otherwise noted.