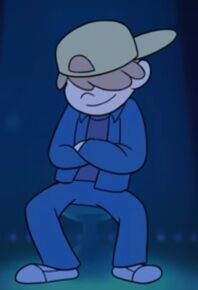 Paper Boy is the titular character from the Paper Boy video game.
The Paper Boy delivers newspapers along a suburban street on his bicycle. Besides performing good deeds, the player also has the option of doing bad things, such as smashing the windows of non-subscribers, and preventing things from crossing the street. No matter what action is taken, whether it be good or bad, it is all done by throwing newspapers.
In the AWA fics, Paper Boy is a resident at the Uzumaki Villa and works as the local newsboy.
Appearance
Paper Boy has a light-brown hair and blue eyes, he is currently wearing a blue polo jacket over a white shirt, black pants, white & blue sneakers and a orange & yellow cap which is worn backwards.
Characterization
Paper Boy is hardworking and reliable but can destructive to his environment.
Trivia
In Wreck-It Ralph, Paperboy is seen riding around Game Central Station. He can also be seen in the background of one of the trailers when Ralph is talking to Q*bert (where Paperboy falls off his bicycle).
Gallery
Community content is available under
CC-BY-SA
unless otherwise noted.