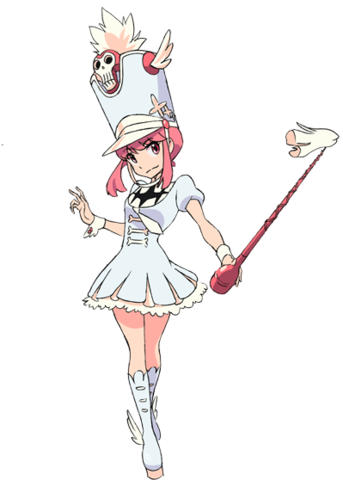 This article uses material from the "Nonon Jakuzure" article on the Kill la Kill Wiki at FANDOM is licensed under the Creative Commons Attribution-Share Alike License.
Nonon Jakuzure is a character from the Kill La Kill anime.
The Non-Athletic Committee Chair and commander of the school's culture clubs. She boasts having been Satsuki's friend since kindergarten, and fancies herself Satsuki's equal. As a music conductor, Jakuzure's Three-Star Goku Uniform Symphony Regalia is a mobile sound system that utilizes sound-based attacks and musical instrument-shaped artillery.
In the XP4 fics, Nonon debuted in the XP4 Heroes Coalition - Kick-Off!.
In the AWA fics, Nonon is a student at the AWA Academy and is part of Class 8.
Appearance
Nonon is petite with pink hair and an angular face. Unlike most females in the series, she has a small bust and medium hips. She is almost always seen with a skull-marked hat, except as a child, where she had a pet monkey that sat on her head.
Personality
Though she often presents a cute and sweet facade, Nonon is very sassy and possesses an extremely caustic wit. She is the most outright arrogant out of the Elite Four, which becomes especially apparent during fights, where she displays a sardonic attitude towards her opponent. She constantly jabs at her friends and foes alike, seeming to enjoy nothing more than to annoy everyone around her.
Despite her bossy attitude, she is extremely respectful towards Satsuki, and even boasts about the fact that she has known her longer than the other Elite Fours. However, she does care for the other Elite Four members as friends, shown when she seems clearly shaken up by Gamagōri's apparent demise.
She has a penchant of using music, especially classical, in battle.
XP4 Fanfic
Nonon is a member of the Heroes Coalitions and is part of the Team Redemption. She also attends the Vanguard Academy as a student.
XP4 Heroes Coalition - Kick-Off!
In Chapter 4, Nonon, alongside her team - Team Redemption, are seen making their way to Magnolia after finishing exterminating the Emotionless at Web Alley when they came across a group of mountain bandits and easily defeated them. After that, they arrived in Magnolia at the Fairy Tail Guild and met up with Makarov Dreyar.
XP4 Heroes Coalition - Neo-City Diaries
In Chapter 21, Nonon is seen being flirting by Eddy Skipper McGee beside the Withered Tree somewhere in the Training Camp at Neo-City. Nonon rejected him by kicking him in the nards, much to his dismay before she left him alone.
Abilities
Natural Abilities:
Nonon Sound Negation (Nonon Mubyōshi)
Only shown in Episode 25, she creates a dark barrier that forms around her and deflects any incoming attacks, similar to what Ryūko did in their battle.
Three Star Goku Uniform
Symphony Regalia Grave - Like the other members of the Elite Four, Nonon's Goku Uniform is unique and exceptionally powerful. The Symphony Regalia Grave takes the form of a titanic, heart-shaped LRAD equipped with massive woofers that fire waves of reverberating bass and bladed musical notes. Nonon herself stands in a cavity at the front of the machine, wearing a skintight pink bodysuit with skeletal details. A pink version of her usual bandleader hat rests on her head, and four skeletal arms ending in baton-like protrusions emerge from her shoulders and hips. She also has a small skull on her left shoulder with triangular eyeholes and a small plume of feathers/fur on its scalp, resembling the head of a punk rocker. Unlike the other Elite Four, Nonon's transformation also incorporates the instruments of her marching band, which appear to help her form her tank. If the vehicle is destroyed, it explodes into its component instruments, leaving Nonon in her skeletal bodysuit.
Symphony Regalia Presto - Nonon's Symphony Regalia Grave can reconfigure into an enormous airship, with Nonon suspended on the front like a figurehead. The tank's treads retract into the bottom of the machine while three fins emerge from the back and sides. This form of the Symphony Regalia is armed with numerous weapons, including enormous recorder-shaped rockets fired from the bottom of the machine, cymbal blades launched from the front around Nonon's "cockpit", powerful woofers that fire waves of concussive bass beats, streams of glowing music sheet-like beams with enough power to demolish the ground, and an array of laser bolts, sometimes heart-shaped. Nonon's own outfit is unchanged between the Grave and Presto forms.
Symphony Regalia Da Capo - If her tank/gunship is destroyed, Nonon reveals the ultimate form of her Symphony Regalia, which the rest of the student body describes as her "encore". The remains of her vehicle transform into a tower-like stage, from which Nonon emerges in a pink drum-major uniform with a tall, horned hat. Its primary weapon is a cannon on the hat which releases devastating purple energy beams to the sound of Beethoven's Symphony No. 5: "Fate". The music's rhythm resonates with the targeted Life Fibers of her opponent, manipulating them and inflicting damage at the same time, making it effectively impossible to move when blasted by the music.
Symphony Regalia Mk.II - A revamped version of Nonon's old uniform that looks like a flight suit with an elaborate flight pack. The hat resembles a skull and the wings/engines of the suit itself look like smaller versions of her old uniform. Nonon's forearms and lower legs are encased in white armor resembling ocarinas, and the suit also features extra thrusters above and below the wings. The upper thrusters resemble church organ pipes, while the lower ones resemble recorders. Nonon's armaments include a barrage of rockets fired from her lower thrusters, as well as concussive bass beats fired from its woofers, whether they be pure white streams of musical notes or heart-shaped blasts of sound. It presumably broke down during the COVERS invasion in the wake of the Great Culture and Sport Festival.
Symphony Regalia: Finale - Like the other Goku Uniforms, Nonon's ultimate uniform is skimpier, and possibly the skimpiest in its active form. It consists of black thigh highs, pink high heels, shoulder pieces that cover the upper part of her breasts, a small black patch over her groin, and three bone-like decorations on her bare midriff. As usual, it features a tall conductor's hat with a large skull on the front - in this form, the skull's teeth resemble piano keys. The back of the uniform features a sleeker version of her previous uniform's flight pack, but with a black and gold color scheme and slightly smaller engines. With this uniform, Nonon is capable of flight and armed with a concentrated, more powerful form of her musical beams fired from her flight pack.
Bakuzan-Gako - A small blade forged from the remains of Bakuzan. It has the properties of Bakuzan, enabling it to cut through Life Fibers. Nonon showed considerable skill with the blade while saving Matarō and his group of survivors from COVERS. When Satsuki Kiryūin escaped Honnoji Academy and joined Nudist Beach, Nonon gave the dagger to her.
Trivia
Nonon was originally going to be a punk rocker wielding an electric guitar. This concept was ultimately scrapped in favor of the marching band look to better fit the high school theme of the show. Additionally, Nonon would have used guitar rifts instead of classical music.
Gallery
Community content is available under
CC-BY-SA
unless otherwise noted.