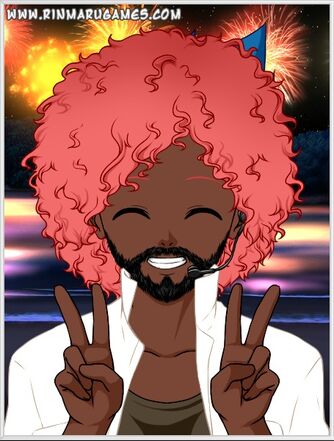 New Day Jose is a character from the XP4 Series of Fanfics.
New Day Jose is from the Dominican Republic, a party planner and a children's book author.
New Day Jose is a member of the Heroes Coalitions and is part of the Team G.O.A.T. (Greatest of all Time). He also attends at Vanguard Academy as a student.
Appearance
New Day Jose has a darkish-brown skin tone, has a tall stature and is slightly muscular. He has a pink afro hair, brown eyes and a thick facial hair. He wears a white dance jacket over a gray top, white dance pants and white dance shoes. He also wears a small earpiece on his left ear.
Personality
New Day Jose is a fun loving party animal. He has an infectious bright smile and is very friendly. He's a fun-loving guy, but make no mistake, he can and will bring the fight.
Abilities
He's very agile and fluid, as one would expect of a Dance Battler. As light as he is on his feet, New Day Jose also possesses a pair of heavy hands. The fleet-footed grappler won't shy away from clubbing his foes with a home-run swing of a double axe handle or dropping them where they stand with a devastating right hand on taking down his foes.
Trivia
New Day Jose is based from No Way Jose from WWE.
According to XP4Universe, his ideal voice actors for New Day Jose are Weird Al Yankovic (Cheese Sandwich from My Little Pony) and Shintarou Oohata (Tsunemi CHIBA from BECK).
Community content is available under
CC-BY-SA
unless otherwise noted.