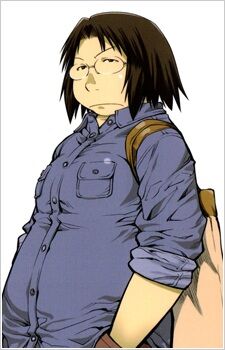 This article uses material from the "Mirei Yajima" article on the Genshiken Wiki at FANDOM is licensed under the Creative Commons Attribution-Share Alike License.
Mirei Yajima is one of the main characters from the Genshiken anime and manga.
Yajima is a first year female student who also decided to join Genshiken after seeing Ogiue's manga poster drawing demonstration. She too is a fujoshi, though not as blatant about it as Yoshitake.
In the AWA fics, Mirei made her debut at the sixteenth chapter of All Worlds Alliance Stories.
Appearance
Yajima is is stocky, overweight, and is generally seen with a grimace on her face. She dressed in gender neutral clothes and has never made an attempt to look feminine. Though Yoshitake comments on how large her breasts are, Yajima claims they're merely from her fat than from development into womanhood.
Personality
Yajima is reserved and somewhat shy. Though she has a grimace on her face, it's actually hard to predict what's actually running through her head. Since the arrival of Hato, Yajima has suddenly become self-conscious of her own feminine identity and becomes envious of him, though she will not openly disclose her thoughts. She respects the feelings of others, and will often reprimand her friend Yoshitake for pushing too far into people's comfort zone. This, however, does not change her inquisitiveness on whether Hato is truly a girl or boy, and she has been known to act against her own better judgement.
Trivia
Looks like a wider, female Sasahara; could be seen as the Sasahara/Ogiue equivalent for this 'season'.
She ships Hato and Madarame, even though she herself has feelings for Hato.
Gallery
Community content is available under
CC-BY-SA
unless otherwise noted.