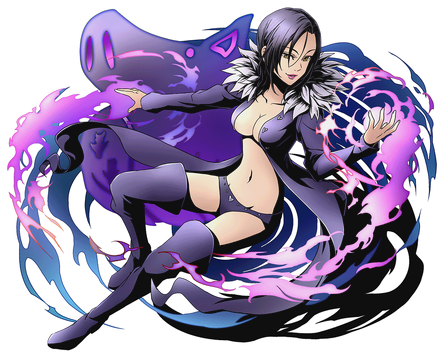 This article uses material from the "Merlin" article on the Nanatsu no Taizai Wiki at FANDOM is licensed under the Creative Commons Attribution-Share Alike License.
Merlin is a character from the Seven Deadly Sins anime and manga.
Merlin is the Boar's Sin of Gluttony and the mentor of Arthur Pendragon. Originally appearing as a cloaked person assisting Arthur, she finally reveals herself while fighting her apprentice Vivian. She is the greatest magician in all of Britannia. She is also the one who knocked Meliodas a decade ago when the Sins were framed in order to prevent him from getting angry.
In the XP4 fics, Merlin debuted in XP4 Heroes Coalition - Kick-Off!.
In the AWA fics, Merlin is a student at the AWA Academy and yet to make an appearance.
Appearance
Ten years ago, Merlin was wearing a full set of armor with a unique helm that resembled a beetle, like the rest of her fellow Seven Deadly Sins. This armor set had a long dress, and she wore high-heeled boots. Merlin's wanted poster depicts her as a young woman with long dark-colored hair. Her Seven Deadly Sins tattoo is located on the left side of her neck and is colored red, hence her nickname as the "Crimson Pig".
Ten years afterwards, Merlin was first seen wearing a long violet cloak that covered her whole body and her face, making her sex ambiguous. When the cloak was ripped apart, Merlin was shown to look very similar to her appearance on her wanted poster. She is seen as a slim, attractive, tall woman with three beauty marks below her right eye (though after her reappearance after Hendrickson's defeat, she appears to only have a single, lower-placed, larger beauty mark). Her outfit consists of a highly revealing and open fur collared long coat, with heart shaped buttons, short shorts with a heart on it, and thigh high boots. Merlin's hair is at shoulder length and black.
After having her magic seal spell reflected back by Chandler's Full Counter, it is revealed that her true form is that of a childish form of herself seen thus far disguised by magic. In this form, she is described as an adorable child by Chandler with long black hair reaching her mid back.
Personality
Prior to the Seven Deadly Sins' supposed betrayal, Merlin demonstrates a playful nature, telling her teammates that their meeting with the Great Holy Knight might turn out to be a scolding from their superior for destroying the Great Druid Altar. Merlin is also apologetic, in asking for her captain's forgiveness for knocking him out. She enjoys mocking and challenging others, teasing her apprentice Vivian for losing herself in rage again. Merlin tends to use anyone as a magical guinea pig to test out new techniques she learned so long as the results are good (as Meliodas had noted).
Merlin is a very calm and passive woman, almost never loosing her cool regardless of the situation. Even as she and everyone were being overwhelmed by Galand, Merlin remained calm and was able to think of a strategy to counter him. The only time she loses her calmness is when the situation is beyond her ability to cope, such as Meliodas reverting to his previous self or when Arthur was impaled by his own sword.
Merlin is described as a very mysterious woman, as many who know her have a difficult time telling what she is after. She expressed excitement when the Ten Commandments were free, primarily knowing she could gain a large amount of information from their appearance and taking an interest in Escanor's powers due to the many mysteries surrounding him. According to Meliodas, Merlin tends to take an interest in anything that is considered "rare", such as Escanor's powers and various Demons she can use for her experiments. Even Demons have a hard time understanding what she's after.
Despite her mysterious nature, according to Escanor, Merlin is a very kind and cheerful woman. She is normally kind and polite to everyone around her, even those she does not know. Merlin is also the only person who treats Escanor as a person rather than a monster as everyone else does prior to him joining the Sins. She also has a motherly side, treating Arthur as a mother would a son and was deeply saddened over his death.
Despite her usually kind and calm behavior, Merlin knows when to be serious. As when regarding the revival of the Commandments, she scolded Hawk for taking the situation lightly. She also took command after Arthur was killed refusing to let anyone else she cares for to die.
Merlin loves knowledge above all else. Because of her desire to learn everything, she suspended her own age to have all the time in the world to study and learn everything. For that reason she regularly takes excitement whenever she has the potential to learn anything she does not know about. She was interested in Escanor primarily due to his unique powers as well as how it fluctuates during the day, and studies a captured Grayroad to learn more about how his Commandment works. Because of her desire for knowledge, Merlin is a very shrewd and intelligent woman, being able to calmly assess the situation at hand no matter how dire it is as well as explaining the mechanics over any form of creature or magic by heart. However, Merlin is not above acknowledging when she does not know something or when a situation is beyond her capability to understand.
Despite Merlin being usually calm and serious, she is capable of being shocked or embarrassed. As when Elizabeth regained her memories she asked Merlin if she could call her "Big Sis-Sis" like she used to which left Merlin deeply embarrassed. She even was embarrassed when the others Sins (mainly Escanor) asked if Elizabeth could talk about it more.
She appears to have very little modesty, as Merlin has no problems wearing very little in public or even allowing Escanor to give her a massage while she was taking a bath.
XP4 Fanfics
Merlin is a member of the Heroes Coalitions and is part of Of Guns and Magic as it's second-in-command. She also attends at Vanguard Academy as a student.
XP4 Heroes Coalition - Kick-Off!
In Chapter 10, Merlin, alongside her team, Of Guns and Magic, are seen in the kingdom of Reste Sig where they had a mission to defeat the rebellion going against the Royal Blomma Family. After driving away the rebels, Merlin and everyone were ordered to stay in the kingdom for a while until all rebels are captured which they complied.
Abilities
Merlin is said to be the greatest magician in all of Britannia, and upon her introduction was shown to be capable of easily defeating some of the greatest Holy Knights in Liones and overpowering her former student Vivian, the most prominent mage of Liones. Later, upon freeing herself from petrification she defeated Grayroad, one of the Ten Commandments.
The simple mention of her birthplace and her true name is enough to frighten two members of the Ten Commandments and send one of them fleeing for their life. Later another member of the Ten Commandments praised her for being able to escape from his attack and noted it was no surprise that Grayroad would lose to her. Meliodas later claimed that she only fell victim to the attack due to being "caught off guard" in a trance state.
Through her vast knowledge of magic and spells, Merlin has demonstrated the ability to levitate and is able to cast illusions, having produced a large powerful mirage army that tricked even the Great Holy Knights. Though Merlin is unable to use true healing magic like the Druids from the eastern forest, she is able to cure illnesses using her magic item Cure Angel. In the aftermath of the battle with the Ten Commandments at Liones, Merlin restored the battle-ravaged kingdom to its former state within a single night.
In battle, Merlin often opts to teleport her opponents into a multitude of harsh environments as she attempted against Vivian and Galand. She is also capable of creating magical portals into different spaces, as she did during the Seven Deadly Sins' invasion of Edinburgh. She can switch into multiple offensive spells which she channels through the sacred treasure Aldan. When battling against Grayroad, and Melascula's resurrected skeletons, she employed spells such as Exterminate Ray and potent magical blasts to incinerate her opponents. She also has access to an array of elemental spells such as Endless Whirl and Icicle Castle to overwhelm opponents, the former having enough power to destroy the castle of Liones.
Against more powerful individuals, Merlin prefers to render opponents powerless immediately, illustrated through her regular strategy of knocking Escanor unconscious through a combination of Power Amplify and Gowther's Blackout Arrow. This is also evident in her use of Perfect Cube to quarantine Meliodas and her later attempt to use Magic Seal against Chandler after witnessing his use of Absolute Cancel to free Meliodas.
In conjunction with her magic Infinity, Merlin utilizes an array of spells to serve supplementary purposes such as inhibiting the growth of Grayroad's demon eggs by freezing them for eternity and freezing her own time to create a form of immortality. Through the blessing of the Demon King and studies under the Ten Commandments' Gowther, Merlin has also gained knowledge on the secret techniques originating from the Demon Realm such as Perfect Cube and Absolute Order.
After receiving the blessings of both the Demon King and the Supreme Deity, Merlin gained immunity to the brainwashing and possession abilities of the Goddess Clan, as well as resistance against magic attacks and dark curses, including the Commandments, as she was capable of freeing herself from the "Truth" commandment and remained unaffected by Grayroad's "Pacifism."
Abilities
Main article: Infinity

Infinity「 Mugen (Infiniti)」: An ability that allows Merlin to stop the time of her spells, causing them to last for eternity. The ability is so powerful that many label it as 'cheating'.
Absolute Cancel「 Zettai Kyōsei Kaijo (Abusoryūto Kyanseru)」: By placing her hands over a spell, Merlin is able to completely erase it from existence. However, if the particular sort of magic is being sufficiently powerful, it may be difficult to erase completely, instead being temporarily suspended.

Magic Cancel「 Maryoku Kaijo (Majikku Kyanseru)」: A technique that allows Merlin to cancel any magic that has been cast on an individual. It was shown to cancel the effects of one of her own magical items.
Others
Location「 Tanchi (Rokēshon)」: A power that allows Merlin to locate any item or person. She can extend its reach to cover an area of approximately the size of a city.
Power Amplify「 Maryoku Zōfuku (Pawā Anpurifai)」: A spell that allows Merlin to amplify the magic of her allies, making their techniques considerably more powerful.
Perfect Cube「 Kanpeki naru Rippōtai (Pāfekuto Kyūbu)」: A spell that denies entry to anyone but the caster. Originating from the demon world, the spell surrounds a specified area and reflects all attacks, whether strong or weak, back at the opponent.
Shunkan Ido「 Shunkan Idō; literally meaning "Teleportation"」: High-level teleportation magic that allows Merlin to appear and disappear at precise locations and teleport groups of people instantaneously. The spell effect radius of Merlin's teleportation is several miles wide. Her teleportation magic was shown to be much faster than that of the Liones Kingdom's greatest magician.

Apport「 Buttai Ten'i (Apōto); literally meaning "Object Transition"」: A subsidiary teleportation technique that allows Merlin to summon various objects, such as clothes and weapons, to herself and her allies.
Aqua Dress「 Mizu no Koromo (Akua Doresu); literally meaning "Water Dress"」: A spell that creates clothes made of water. By refracting the light in the water, Merlin is able to hide the most "important" parts.
Wave Dragon「 Haryū (Uēbu Doragon)」: A spell that allows Merlin to call many dragons made of water.
Fire Storm「ファイアストーム Faia Sutōmu」: A spell that allows Merlin to attack the opponent with a powerful blast of fire.
Exterminate Ray「 Senmetsu no Hikari (Ekusutāmineito Rei); literally meaning "Light of Annihilation"」: A spell where Merlin fires a disintegration beam, incinerating everything in the line of fire.
Endless Whirl「 Owari naki Uzu (Endoresu Wāru)」: A spell with which Merlin creates a vortex of wind with an incredible destructive power, sucking their objectives towards its center. 
Curse Engage「 Noroi no Kon'yaku (Kāsu Engēji)」: A spell with which Merlin creates a contract between two beings to control one of them. By placing a ring on the hand of the victim, this is subject to the spell that causes excruciating pain in their body every time they try to use magic against the other person or the other person saying the incantation "Remada". Each time the spell is used, the person affected will be covered by brands that are becoming larger and once these brands cover their entire body, the affected person will die. The victim of the spell is unable to ever remove the ring.
Shock Stinger「 Shōgeki no Ohari (Shokku Sutingā)」: A spell with which Merlin throws a lightning bolt at the enemy causing a great impact on his body.
Magic Seal「 Maryoku Fūji (Majikku Shīru)」: A technique that seals away the magic of the objective.
Icicle Castle「 Tsurara no Shiro (Aishikuru Kyassuru)」: A spell with which Merlin traps her targets inside huge pillars of ice. This spell was powerful enough to restrain Cusack for a brief period.
Weapon
Aldan: The sacred treasure Aldan takes on the appearance of a small sphere that floats in Merlin's palm.
Magic Items
No. 9: The Needle of Humanification: A syringe capable of giving a human body to any non-human creature with which it is injected.
No. 48: Cure Angel: A demonic caterpillar-like creature that is used for healing.
No. 91: Heat Fork: A large wooden fork able to heat things up.
No. 172: Minimum Tablets: Based on the spores released by the Chicken-Matango, the Minimum Tablet is capable of shrinking the size of the consumer. The effects of one single pill can endure up to seven hours.
No. 174: Peace Amulet: An amulet that will hold down the wielder's negative emotions. 
No. 300: Monster Block: Bite-sized pieces of various monster and beast's meat.
Balor's Power Eye: Named after the One-Eyed God, Balor, the Eye grants the ability of viewing other character's fighting prowess in the form of numerical values which are split into 3 categories: Power, Strength and Spirit.
Goddess Amber: A stone that will seal lesser demonic beings within a specific radius. It is used by Veronica to seal Meliodas on Hendrickson's orders.
Incantation Orbs: A series of magical orbs that activate a spell upon destruction.
Trivia
According to the official fanbook:

She is right-handed
Before being framed, she held the Diamond rank
Daily routine: Research and experiments
Weak Point: Once she concentrates on something she forgets everything else around her
Birthplace: Belialuin
What she likes about herself: Being a passionate researcher
Dream/Hope: Knowing everything
Regrets: Being born
The most embarrassing thing in her life: The one time when she confessed her love
What she wants the most right now: Lifting the curse of the commandment
Favorite animal: Hundun's mother
Favorite scent: Her research facility
Favorite food: Raisins
Charming point: Her suspicious smile
She has no complex
There is no person she respects
She does not want to make an enemy of Meliodas

In Arthurian legends, Merlin is the name of a legendary wizard and adviser to Arthur, the King of Camelot, as well the mentor of Vivian, who despised Merlin.
Sometime after the Sins were framed, Merlin's old castle in the Kingdom of Liones started being used as Hendrickson's Magical Research Facility, and overflowed with rare magical artifacts prior to its destruction. After Hendrickson's defeat Merlin started using another building to house various magic materials, though it is considerably smaller, appearing to be only a one, possibly two, story building, with what what appears to only be one room per floor, at least for the first floor.
For yet unknown reasons, she did not use Location to find Escanor in an instant, despite being able to.
Merlin's tattoo oddly resembles Hawk.
Merlin uses magic to manipulate her clothes so that they stay on.
In Volume 5 it is revealed during a Conversation between Hawk and Meliodas that the Tattoos of each Sin were created by Merlin using a Magic Spell.
The Sin of Gluttony is usually symbolized with a Pig and the color orange.

This makes Merlin the only one of the Seven Deadly Sins whose animal tattoo corresponds with the animal of the real sin that she represents.

In the Nanatsu no Taizai Popularity Poll, Merlin was placed 9th for postcards.
The advice corner for chapter 117 notes that Merlin has the biggest sweet tooth among the seven sins, being dependent on sweets when she is deep in thought.
In the databook it was stated that Merlin once had several other apprentices before Vivian.
In the extra page of Extra Chapter 10 that was only published in Volume 24, it is hinted that the person Merlin confessed her love to was Meliodas.
It is revealed that Merlin body stopped aging at age 30.
It has been revealed when she was 12 or 13 years old she looked up to Elizabeth (the original goddess) as her "big sis sis"
Merlin revealed that the last time she cried was 430 years ago, after eating Meliodas' special Demon Frog Liver cakes.
Gallery
Community content is available under
CC-BY-SA
unless otherwise noted.