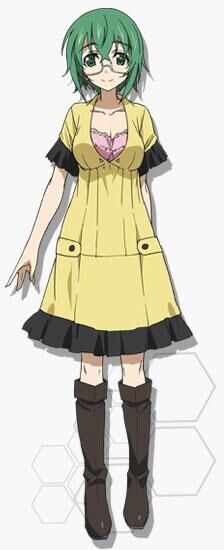 This article uses material from the "Maya Yamada" article on the Infinite Stratos Wiki at FANDOM and is licensed under the Creative Commons Attribution-Share Alike License.
Maya Yamada is a character from the Infinite Stratos anime and light novels.
Maya is an Assistant Homeroom Teacher of Chifuyu Orimura in Class One at the IS Academy and a former IS Representative Candidate of Japan.
In the AWA fics, Maya serves as one of the many instructors in the AWA Academy.
In the XP4 fics, Maya is an instructor on both Heroes Coalitions and Vanguard Academy.
Appearance
Maya has short green hair with matching colored eyes and wears glasses. While around average height, she has a voluptuous figure and very large breasts that usually makes Ichika nervous whenever she is in her tight fitting IS suit. She is often seen wearing a revealing yellow dress with short sleeves and knee high boots. 
Personality
Maya is a very shy and nervous person who is affectionate towards her students; when Ichika accidentally grabbed her breasts during a crash landing, she refused to say anything cruel or mean, instead, she began talking about marriage and whatnot before having a sexual relationship, Ichika quickly backed off due to his somewhat similar personality. She is a sharp contrast when compared to Chifuyu, who tends to be very strict with her students. Despite her tremendous IS abilities, Maya remains extremely modest when being flattered by Chifuyu, stating that it was ages ago and that she never got past being a candidate student. She can be quite teasing though, such as playfully questioning Chifuyu about her brother, which she is always forced to take back.
Despite her shyness, Maya can quickly become level headed and confident when it's time for action. This quick change surprised her students, after she protected Ichika from Cecilia and Rin's anger. She also somewhat playful in battle as well, as she can often be seen smiling when in action. 
Maya is also rather inexperienced when it comes to being around males. Often, she's slow to catch on that her large breast would naturally draw the attention of young boys (usually Ichika), especially when she's wearing the skin-tight IS suit. She admits at one point that she has never had a boyfriend, which would likely explain this inexperience.  
Abilities
Despite her fragile personality, as a member of the IS Academy staff, Maya is proficient at manipulating an IS. Her extremely accurate sharpshooting skills makes her a highly skilled opponent. During a demonstration, she easily defeated Cecilia and Lingyin in a 2 vs 1 battle. Maya is also very nimble and can quickly dodge attacks easily.
Maya's IS is the Raphael Revive from the Dunois company (by Charlotte Dunois(not made by)). It's a machine developed at the end of the 2nd Generation, but its specifications are rival with the early 3rd Generation machines. In terms of deployed mass production IS models, it went on sale the last, but has the 3rd largest buyer-base in the world. By changing the the equipment, it can be configured for all types including physical combat, sniper role and defense.
XP4 Heroes Coalition Relationships
Friends
Chifuyu Orimura, The Demoman, Dr. Michael Pating, The Engineer, The Heavy, Joanna Dark, Louie, Major Richard Stronghold, Mario Martinez, Max Tennyson, The Medic, Olive, Penelope von Steiner, Tabane Shinonono, Taro Yamada, The Pyro, Samurai Jack, The Scotsman, The Scout, The Sniper, The Soldier, Son Goku, The Spy, Van Grants and Vegeta
Enemies
Squall Meusel, Autumn and Madoka Orimura.
Trivia
Maya's name in kanji means true (Ma) Buddhist (ya). Ichika also notes that her name is a Japanese palindrome (is pronounced the same forwards and backwards).
In the XP4 fics, Maya is dating Taro Yamada.
Gallery
Community content is available under
CC-BY-SA
unless otherwise noted.