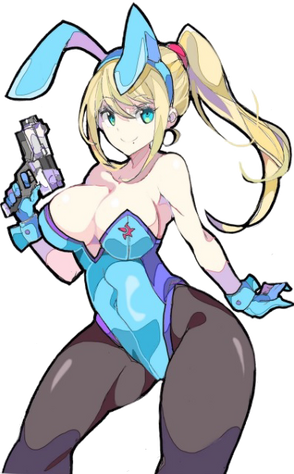 Leona Charlotte is a character from the XP4 Series of Fanfics.
Leona is a 20-years old college dropout, a former model and an internet overachiever.
Leona debuted in the XP4 Heroes Coalition - Mission Chronicles.
Appearance
Leona is a young woman has a voluptuous and well-endowed body, she has a fair complexion, a long blonde hair tied in a high ponytail and has blue eyes. She wears a blue leotard, dark-brown pantyhose, blue gloves, blue boots, and a pair of blue bunny ears on top of her head.
Personality
Leona is a boisterous and fame-driven young woman. She enjoys basking in glory at the expense of others.
Leona easily gets mad and frustrated over usual things.
XP4 Fanfics
Leona is a member of the Heroes Coalitions and works as a Solo Hero. She also attends at the Vanguard Academy as a student.
XP4 Heroes Coalition - Mission Chronicles
In Chapter 1, Leona took part of a mission in an amusement park at West Coast Pop.
Abilities
Leona is skilled(?) in using various weaponries with the sniper rifle which is really bad at.
Trivia
Leona loves to walk around in a bunny suit even when she's not on missions.
According to XP4Universe, his ideal voice actress for Leona are Sarah Jeffrey (Audrey from Descendants: Wicked World) and Marina Inoue (Yumiko Miura from My Teen Comedy Romance SNAFU).
Gallery
Community content is available under
CC-BY-SA
unless otherwise noted.