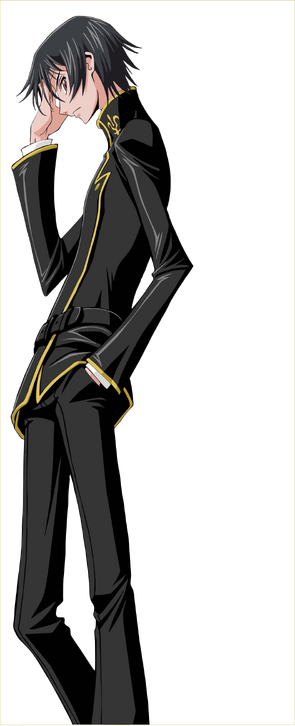 This article uses material from the "Lelouch vi Britannia" article on the Code Geass Wiki at FANDOM and is licensed under the Creative Commons Attribution-Share Alike License.
Lelouch vi Britannia is the main protagonist of the Code Geass anime and manga.
Lelouch was given the power called a Geass that allows him to compel anyone to obey him to do anything he demands — although It only works once on any given person. Few even of his closest friends know that he is actually a fallen prince of the Britannian Empire. He plans to rebel against his estranged father, the Emperor Charles zi Britannia, who, he thinks, was unforgivably apathetic about his mother's death — and may even have had a hand in it. Worse, Lelouch was sent to Japan with his crippled sister as bargaining chips, only for said nation to be invaded with them still there. Lelouch demands vengeance, and he'll settle for nothing less than the complete destruction of the Britannian royal line.
In the AWA fics, Lelouch serves as AWA Academy's headmaster despite his young age.
Appearance
Lelouch is a handsome, young man with black hair and violet eyes, which he inherited from his mother. Lelouch is somewhat scrawny, having little muscle, and like most characters in the series, is rather thin. In spite of this, Lelouch is considerably tall, standing at least a head taller than Kallen, and apparently being slightly taller than Suzaku.
Lelouch usually wears the Ashford Academy uniform, or the Zero uniform. Outside of Ashford, he wears a crimson jacket with a black shirt underneath and grey trousers.
Personality
Lelouch is a highly intelligent individual who is also calm, sophisticated, and arrogant due to his aristocratic upbringing. While at school, Lelouch conducts himself as a sociable, likeable, and often easygoing student. However, this is really a mask to hide his true nature. While as Zero his true nature is expressed. His charisma and beliefs in justice gain him the trust and respect of many soldiers and leaders.
Lelouch is known for having a very stoic personality. He never cared about schoolwork, seeing the entire thing as trivial, even though his high intelligence would make it easy for him. At one point, Shirley stated that if Lelouch applied himself in school, he could get high grades. He enjoys seeking out challenges, often playing chess against nobility. In general, Lelouch takes most day-to-day affairs with open disinterest, often not even noticing the affection of others, especially Shirley, his fellow classmate. He has a strong dislike for nobles, viewing them as tepid and "overprivileged parasites."
In battle, Lelouch is very cold and tactical. He is willing to sacrifice civilians and soldiers alike, if that is what it takes to achieve the objective. In the battle at Narita, when he created a landslide that wiped out most of the enemy forces, and indirectly, several civilians in the town below, he brushed off the civilian casualties as a simple "mathematical overestimation." He did have second thoughts when he learned that one of them was Shirley's father, but he accepted that there will always be consequences for all of his actions. He also saw no problem with collapsing a large portion of Tokyo, resulting in countless military and civilian casualties.
Many characters have noted that Lelouch is quite selfish, as his desire to remake the world into what he wants it to be comes from his desire to avenge his mother's apparent death and Nunnally's sake, however in time he realizes that this goal is not just for them, but for the entire world.
Despite his cold, calculating demeanor, and ruthlessness in battle, he can be a rather compassionate person to his friends and loved ones. To Nunnally, he is a loving older brother, and to Suzaku, a loyal friend, despite the fact that the two are enemies. Lelouch, at first glance, seems to have relatively little concern for the well-being of his subordinates, but in reality, he does care about them, seeing them as valuable allies. Though he has shown preference on occasion especially with Kallen.
Abilities
Lelouch's Geass, bestowed upon him by C.C., gives him "The Power of Absolute Obedience", allowing him to plant commands within a person's mind upon eye contact in a manner comparable to hypnosis. Activation of his Geass is visually represented by the manifestation of a Geass Sigil in his left eye. Commands dictated in this state are written into the minds of the designated targets once the Sigil projects from his eye to theirs. Lelouch could initially toggle Geass activation at will, but subsequently lost this control and suffered from an affliction known as "runaway Geass" near the end of the first series.
Even without his Geass, Lelouch is a formidable opponent. His greatest weapon is his prodigious mind, possessing a genius-level intellect, and is capable of devising and executing strategies with incredible speed and precision. As a child, he was a brilliant chess player, besting any opponent who played against him. He has a record of winning a game in 8 minutes and 32 seconds. However, the one person that he was unable to defeat in a chess game was his older brother, Schneizel. As a teenager, he utilized his masterful skills in real combat, leading a small band of terrorists to victory against overwhelming odds. He could manipulate people and factions with well-spoken speeches and clever deceptions.
Trivia
In the AWA fics, Lelouch is in a relationship with C.C.
In the AWA fics, Lelouch admitted that he was interested over the progress of Chizuru Tachibana and Yoshika Miyafuji's relationship.
Gallery
Community content is available under
CC-BY-SA
unless otherwise noted.