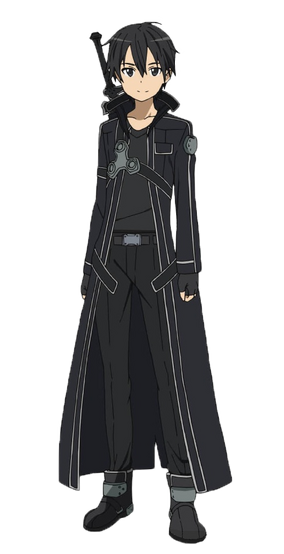 This article uses material from the "Kazuto Kirigaya" article on the Sword Art Online Wiki at FANDOM is licensed under the Creative Commons Attribution-Share Alike License.
Kazuto Kirigaya, also known as Kirito, is the main protagonist of the Sword Art Online anime and light novels.
Kirito is a "solo" player, a player who hasn't joined a guild and usually works alone. He is also one of the very few people to have had the privilege to play in the beta testing period of Sword Art Online. His game alias, Kirito, is created by taking the syllables of the first and last Kanji of his real last and first names respectively: (Kirigaya Kazuto). In the real world, he lives with his aunt and younger cousin in a family of 3.
In the AWA fics, Kirito is a student at the AWA Academy and is part of Class 3.
In the XP4 fics, Kirito debuted in the XP4 Heroes Coalition - Kick-Off!.
Appearance
Kirito described the appearance of his avatar at the beginning of the game and the beta-testing phase as having the appearance of a ridiculously handsome protagonist from some fantasy animation, looking noticeably older than he actually was. His in-game height was equal to that of his height in the real world to prevent the extra height from hindering his movements.
In the full version of the game, during Kayaba Akihiko's tutorial, all player avatars were changed to reflect their real life appearances. After this change, Kirito's SAO avatar had slightly long but neat black hair and black eyes. His delicate face showed no trace of masculinity, allowing people to easily mistake him for a girl.
Kirito's clothes later in the game consisted of black pants with a black belt that had a large silver buckle, a black V-necked shirt that was worn underneath a black trench-coat with gray lining going down the sleeves, and black boots with silver plates to protect his shins. He had a silver plate worn on the left side of his coat, and a pair of black fingerless gloves. He wore a strap that went over his right shoulder and under it to wrap around his left side. In the last months of the game, he used «Elucidator» and «Dark Repulser» as his main weapons. After being defeated by Heathcliff in a public duel and being forced to join his guild, Kirito donned the red and white uniform of the Knights of the Blood.
At the beginning of Project Alicization, Kirito wore a hand-sewn pale blue short-sleeved shirt with a V-shaped cut on the chest which was tied with a light brown cord along with trousers and hand-sewn leather shoes. Two years later, after he became a valet in the Sword Mastery Academy, he wore the standard gray uniform, like all first years and non-elite swordsmen do. In the second year of the academy, after he became one of the twelve elite swordsmen in the academy and was allowed to choose a color for his uniform, he wore a pitch black uniform.
Kirito's initial appearance was that of a default «Spriggan», which he chose because of the race's black-themed equipment. Instead of the normal black forelocks hanging from his head, his black hair stood in natural spikes. His large eyes appeared mischievous, his ears were pointy, and he had dark greyish blue wings. He was equipped with a large greatsword, intended for larger players, like «Imps». He would occasionally dual wield using his experience from SAO.
Kirito changed his previous spiky hairstyle into his old SAO style due to Yui complaining about it being hard to sit on the spiky hair. Later, he also acquired a new coat and switched his greatsword to a new long sword, with an extra one in his inventory.
Kazuto's avatar in Gun Gale Online belongs to the rare «M9000» series. It is an avatar that many male players dream of having, due to its feminine appearance. Kazuto's avatar in Gun Gale Online is both shorter and more slender than his spriggan avatar in ALfheim Online. Although the two avatars share the same black hair and eyes, his hair now flows down to his shoulder blades, while his eyes are larger and shinier. The innocently bewitching gaze from his eyes, framed by long eyelashes, was so different from his previous avatar that Kirito himself momentarily forgot that he was looking at himself when he inspected his appearance for the first time. The avatar also has pale white complexion and red lips. These characteristics often allow others to confuse him as being female. This often causes great confusion to people, such as Sinon. He is equipped with a 5.7mm «FN Five-Seven»handgun and «Kagemitsu G4» photon sword.
Personality
Kirito is someone who is not good with words, as stated by Klein, and can be quite direct. This is due to him not having many friends and closing others off because of his love for computers. As such, he can come off as a rude person to others, such as Lisbeth and Sinon. Sometimes, he actually seems to enjoy angering and teasing people as well. Also, from time to time, Kirito can be quite overconfident thinking he can do things others cannot.
He is almost always a calm and collected character, rarely showing any signs of distress. When Kayaba Akihiko appeared in SAO and announced that it had become a Death Game, Kirito showed only a slight reaction and was able to quickly accept the new conditions of the game, while many others panicked. He has shown different moods throughout the series; at times being rather cheerful, while being gloomy at others. When in a battle, he becomes incredibly fierce and aggressive. Sometimes, his fierceness is up to the point where he loses control of himself and is even unable to recall what he had done.
However, Kirito is actually a kind person who is just misunderstood. Despite the general population opinion towards beta testers in SAO, he refused to abandon another player in trouble. This is only strengthened after the demise of the Moonlit Black Cats. He also comforts others who are scared or down such as Silica after she lost Pina. He claims to help a female player in SAO because she reminds him of his sister, whom he feels to have forced into kendo and feels guilty for that. These kinds of acts have earned him respect and affection from many girls. Kirito, unlike usual male heroes, is not very dense as he was able to tell that Lisbeth was going to confess to him before Asuna interrupted them.
Kirito is also a very emotional person and lets his emotions control him from time to time. The deaths of Sachiand the Moonlit Black Cats had haunted him until his marriage with Asuna in Sword Art Online. Sachi's death, in particular, had a huge effect on his personality and motives, making him very distant from others for a while. This worries his friends and allies as Kirito is someone who would let guilt ruin his life if not comforted. Kirito temporarily loses his will to live when Asuna's character was killed by Heathcliff. He also tries to hide his abilities, not wanting unneeded attention.
Kirito is a person with incredibly strong resolve who will do anything and everything in his power to accomplish something that is important to him without any hesitation. When Asuna was being held in ALfheim, Kirito was bound and determined to set her free and, when Yui confirmed that she detected Asuna being at the top of the World Tree, he immediately tried to fly up to the tree, which had already been found to be an impossible task, and tried to fight his way to the top by himself twice despite being annihilated the first time.
After escaping SAO, Kirito attempts to repair his relationship with Suguha, his cousin. This shows Kirito is now attempting to make up for his past mistake of ignoring her, showing a sense of maturity. Kirito, later in the series, is shown to be a calm and mature player who can be teasing as well.
XP4 Fanfics
Kirito is part of the Heroes Coalitions and is member of the Fairy Knights. He also attends the Vanguard Academy as a student.
XP4 Heroes Coalition - Kick-Off!
In Chapter 3, Kirito alongside his team, the Fairy Knights, are seen walking around Mount Altana somewhere in the kingdon of Fiore when they came across a group of Emotionless and defeated them. Later, they met up with Gelman and made their way to Magnolia.
Abilities
The World's Best Warrior in SAO and one of the top players in subsequent games. He can be relied on to clear up any tough boss or red player that's posing a threat.
Kirito's fighting style focuses on going after his enemy's weak points and weapons, and is called "Arms Blast", an Outside System Skill.
In ALO, this leads to the creation of another Outside System Skill, "Spell Blast", where he accurately targets the tiny core in the middle of spells and destroys them. This Skill is immensely difficult to use, as the timing has to perfect to hit the spells and one wrong move will cause it to fail. Kirito is the only known player capable of using this skill thanks to his Super Reflexes.
Trivia
he name Kirito is a contraction of his real name, Kirigaya Kazuto ("Kiri" from Kirigaya and "to" from Kazuto).
Kazuto currently lives at Kawagoe City in the Saitama prefecture with his family, though his uncle is frequently away from home.
Kazuto has notable skill with computers, managing to build a computer from parts during elementary school, finding his erased records in the national registry at the age of ten, as well as managing to stop the SAO server from deleting Yui by converting her program into an object and storing her into his NerveGear as environmental data.
Kazuto rides a bike which has also had a multitude of passengers including Asuna, Suguha, and Shino.
Kirito/Kazuto usually refers to himself using the personal pronoun ore.
Kirito likes calculating random things, like the volume of the cake that he is going to eat.
Kirito has a tendency of using a window instead of a door to exit the room more quickly, usually when he senses danger or in awkward situations, though sometimes just for convenience.
Kirito's favorite skill is fishing. He even continues raising his fishing skill in ALO.
Kirito uses a self-made PC with a 24 GHz octa-core CPU.
Kirito's favorite food is Teriyaki chicken burgers.
Kirito used to dislike spring onions until Asuna cooked it for him.
Kirito said he would have went after Asuna sooner, if she had not been cute, and also regretted not going out with her sooner, as he only ate good food in SAO after getting along with Asuna.
Kirito said that it seemed that everyone in SAO, including Asuna, viewed him as being older than he really was and, since he had never denied it, he had trouble admitting it to her at some point in the story.
Gallery
Community content is available under
CC-BY-SA
unless otherwise noted.