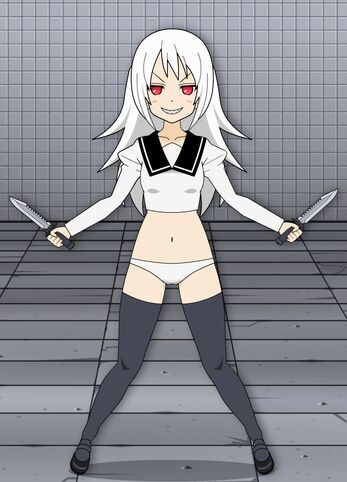 Karasu is the main antagonist from the Vividred Operation anime.
Karasu is a mysterious bird that seems to have Rei Kuroki work for her to have the Alone destroy the Manifestation engine.
In the XP4 fics, Karasu is the main antagonist during the Vividred Operation storyline.
Appearance
Originally a crow with red eyes.
XP4 Fanfics
Karasu has taken the form of Rei only with white hair and red eyes. She wears a short white sailor uniform with black collar, white underwear (much to Rei's dismay), black thigh-high socks and black shoes.
Personality
Karasu is the leader of the alien races known as Alones whom is hellbent in destroying the Manifestation Engine, she is insane and manipulative, and would go berserk if granted enough power. Outright malignant, manipulative and an unrepentant dog kicker.
Trivia
Despite having a voice of a woman, the Crow is not stated to have any gender.
In the XP4 fics, after getting defeated by the gang and her whereabouts are unknown.
Gallery
Community content is available under
CC-BY-SA
unless otherwise noted.