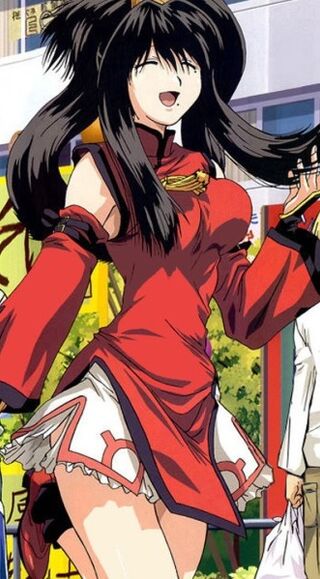 This article uses material from the "Kanako Ohno" article on the Genshiken Wiki at FANDOM is licensed under the Creative Commons Attribution-Share Alike License.
Kanako Ohno is one of the main characters from the Genshiken anime and manga.
Ohno is the fourth president of Genshiken. Raised in the United States since the third grade, she graduated from an American high school, joining the Genshiken at the beginning of the Fall term. Normally soft-spoken and easily embarrassed, Ohno is surprisingly upfront when it comes to one of her two main passions: cosplay. With a nice figure and large bosom, Ohno and her cosplaying (using costumes sewn personally by Tanaka, whom later becomes her boyfriend) quickly become Genshiken's main attraction at student fairs. Ohno's other main passion is yaoi involving muscular, middle-aged, exceedingly bald men.
In the AWA fics, Kanako made her debut at the sixteenth chapter of All Worlds Alliance Stories.
Appearance
Kanako is a well-endowed young woman with a long, waist-length black hair, dark eyes and a luscious mole below her mouth.
Kanako's attires differs in each chapters.
Personality
Kanaka is a soft-spoken, well-endowed girl who enjoys cosplaying. Her enthusiasm for her hobbies serves as a foil for Saki Kasukabe and later Chika Ogiue, who both resist her attempts to get them involved in club activities.
She has what is known as "oyajicon", meaning that her preference for anime men is that of middle-aged characters.
Trivia
Has moments where she seems excited by the prospect of Saki and Madarame being together. Not too mention the cosplay pictures of Saki she tried to give Madarame. In an omake she also reveals (while drunk) that she thinks Saki would be "so much happier" if she dated Madarame. She also later says she likes the idea of Angela and Madarame together.
Gallery
Community content is available under
CC-BY-SA
unless otherwise noted.