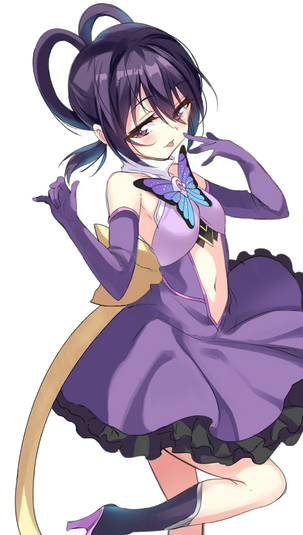 Kagari Hinata is one of the main characters in Puella Magi Suzune Magica manga.
Matsuri's older twin sister, who bears a grudge against Suzune. She has the power to manipulate peoples' memories and consciousness. Her wish is to make Suzune suffer the same fate as Tsubaki did.
In the AWA fics, Kagari is a member of the Apostles of the New World.
Appearance
Kagari has a dark-purple hair which is tied into two rings and small pigtails, and had red eyes. She is currently wearing a purple slim-fitting and very revealing dress with dark frills at the bottom which exposes her shoulders and midriff, an arm length elegant lavender gloves and a purple high-heeled boots. Her dress also consists of a white turtleneck collar, a butterfly crest and a yellow ribbon tied in her back.
Personality
Kagari is a girl with a playfully cruel nature, taking delight in teasing and tormenting her targets, to the point of sadism. She is also downright callous, showing no remorse when torturing or murdering people nor for any of the deaths she is indirectly responsible for, and shows no empathy for others. Kagari is a force to be reckoned with when she turns angry, often lashing out violently; she is also capable of holding extreme grudges, like the one she holds towards Suzune Amano for killing her caretaker, Tsubaki Mikoto, and will do anything she can to get revenge — even turning herself into a witch, if it means she can take out her targets.
In the past, Kagari is seen as more serious and easily irritated; this might come from having to take care of her sister, Matsuri Hinata, who was blind at the time. In the present, Kagari appears to have a soft spot for her, choosing to knock her unconscious and carry her to her bedroom rather than kill her like she did with Arisa; however, Kagari doesn't hesitate to try and kill Matsuri when she gets in the way of her goals.
Abilities
Kagari's power is to alter peoples' memories and consciousnesses, as well as her own.
With this magic, she can create illusions. She uses this to change her appearance (as she used this to torment Suzune with an image of Tsubaki), turn invisible, and confuse others by using her magic to appear as someone else (as she confused Matsuri by covering Suzune with an illusion of herself).
She used her memory-altering ability to turn Suzune into a magical girl killer and erase Matsuri's memories of becoming friends with Suzune (though Matsuri's memories start to come back when Kyubey shows her a vision of Suzune's past involving Tsubaki). Kagari can also show other people visions; she uses this power to show Suzune her backstory, her wish and the reason why she became a magical girl, and the start of her revenge gambit.
Kagari also uses her mind-manipulation magic to greatly speed up her movements (being able to stab a high-speed Arisa, for example) and even turn herself into a witch by altering her own memories to speed up the despair process.
She can also knock someone unconscious temporarily, an ability she once used on Matsuri.
Trivia
Kagari has a definite butterfly motif: the back of her hairstyle vaguely resembles a butterfly, the surrounding decoration of her soul gem is a butterfly, her grief seed has butterflies on it, and the symbol that appears when Suzune briefly shows the magic she absorbed to Matsuri is a butterfly.
Present Kagari is never seen outside of her magical girl form.

She is never seen attending school, nor is she ever seen in a school uniform.

The book familiars of Kagari's witch (one of which ate Matsuri) have covers that resemble the design of Tsubaki's magical girl outfit.
The outfit of the outer body of Kagari's witch resembles younger Kagari's outfit. The body also seems to be coming out of a book resembling the picture book about a witch that Tsubaki was seen reading to the twins; the body also has long, trailing strands of hair, like the picture book witch's hair.

The outer body also resembling a harlequin might refer to Kagari's trickster-like or insincere nature.

Kagari is never referred to in the Japanese text by an honorific, only ever by her first or full name. This does not include Matsuri calling her "onee-chan", which means "big sister" and doesn't use Kagari's name.
Kagari has a habit of elongating her words at the end of her sentences, and speaking with hearts (♥), especially when talking to Suzune.
According to tweets from GAN:

Kagari was designed in the middle of the story.
Her name was taken from the "kagaribibana", or "cyclamen".

In the Japanese language of flowers, the kagaribibana can represent different things depending on the colour. Red kagaribibana represent jealousy (note that Kagari's eyes and soul gem are red-coloured, and her theme colour is purple, which is made from red) and pink kagaribibana represent shyness (note that Kagari's soul gem is also a shade of pink, and her theme colour, purple, is a colour similar to pink).

She is the only main character with only a katakana name in-story because GAN could not find an opportunity to put her kanji name in.

Kagari is the only major Suzune character without a character profile.
Gallery
External Links
Community content is available under
CC-BY-SA
unless otherwise noted.