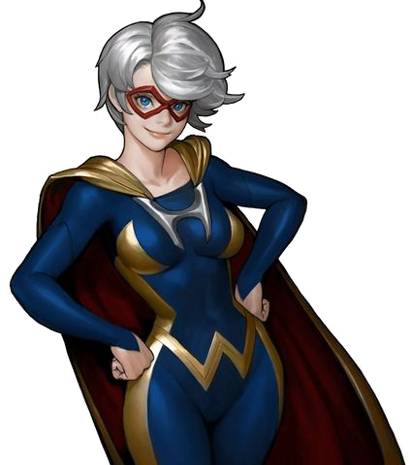 This article uses material from the "Jennifer" article on the HyperUniverse Wiki at FANDOM is licensed under the Creative Commons Attribution-Share Alike License.
Jennifer, also known as Hyper Hero, is a playable character from the Hyper Universe game.
Jennifer is a young superheroine whom is out to protect the world while still attending school as a student.
In the AWA fics, Jennifer is a student at the AWA Academy.
Appearance
Jennifer is a slightly tall with a short, ash-blonde hair and has blue eyes. She is currently wearing a dark-blue skin tight bodysuit with golden linings, a golf & red cape, red boots and red mask.
Personality
Jennifer is a cheerful and hyperactive young woman, and is ready to fight bad guys to protect everyone.
Jennifer can slightly sexist at times and she blames her father for it.
Abilities
Jennifer has exceptional mobility and excels at initiating fights. Her ability to down the enemy at certain damage break points lets her benefit from an aggressive approach. With her ability to shift floors at will, ambushes and causing chaos are her specialties.
Trivia
Jennifer is the first character to be introduced in the AWA fics.
Jennifer likes rock music.
Jennifer likes pink things.
Jennifer hates cockroaches.
Jennifer likes to play tennis.
Jennifer's specialty is singing.
Gallery
Community content is available under
CC-BY-SA
unless otherwise noted.