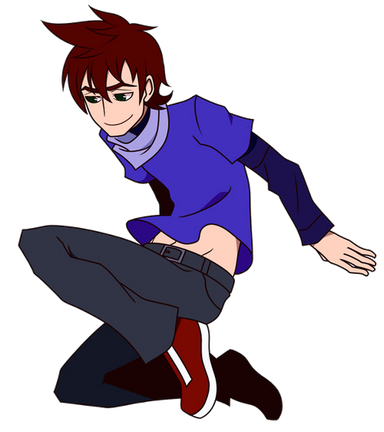 This article uses material from the "Jacques" article on the Randy Cunningham: 9th Grade Ninja Wiki at FANDOM is licensed under the Creative Commons Attribution-Share Alike License.
Jacques is a character from the Randy Cunningham:The 9th Grade Ninja series.
A foreign exchange student from France. Enjoys watching and filming black and white artsy films and is quite skilled at parkour.
In the XP4 fics, Jacques, known as Jacques Paulsen, is a member of the Heroes Coalition and is part of the Destiny's Empire. He also attends the Vanguard Academy as a student.
In the AWA fics, Jacques is a student at the AWA Academy and yet to make an appearance.
Appearance
Jacques is a slim young man with a medium reddish-brown hair and had dark green eyes. He wears a dark violet shirt over a dark turtleneck sweater, dark pants, red & white sneakers and a lavender scarf around his neck.
Personality
Jacques is interested in the strange American traditions and ways. He loves making films with deep meanings to make people think, although his fellow peers don't seem to get it. Once he figures out his ability to jump is his "secret sauce" for success, Jac becomes quite confident in flaunting it around Norrisville High. His dreams are shattered when the Ninja out-flips him in their flip-off, humiliating him a lot and resulting in getting stanked by The Sorcerer where he is transformed into a monkey-like monster. Jac is also willing to save people in trouble, attempting to ward off the balls from hitting Randy and Howard, his new BFFs.
Abilities
Exceptionally agile and quick for a regular high school student. Incredibly skilled at parkour and even managed to keep up with the Ninja for a time.
XP4 Fanfics
Jacques is a Blessed with a yet unspecified Gift.
Trivia
In the XP4 fics, his last name Paulsen is taken from his voice actor, Rob Paulsen.
The book Jacques is reading in "Shoob Tube" is a parody of New York's Bestselling Trilogy of 50 Shades of Grey.
His underwear brand is also a parody of the real-life brand Fruit of the Loom.
Jacques is seen to be very nimble.
He made a cameo in "Grave Puncher: The Movie!"
His Stanked form resembles a giant monkey.
Gallery
Community content is available under
CC-BY-SA
unless otherwise noted.