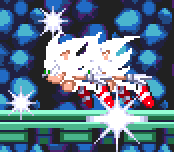 Hyper Sonic is a hyper transformation of Sonic the Hedgehog that is obtained by collecting all seven Super Emeralds, Chaos Emeralds that have been enhanced by the Master Emerald. To trigger the transformation, Sonic must collect at least fifty Rings and perform the Insta-shield. To this date, Hyper Sonic is recognized as the most powerful form of Sonic ever.
Appearance
Thus far, Hyper Sonic's only appearance is in Sonic the Hedgehog 3 & Knuckles. In the game, Hyper Sonic looks very similar to Super Sonic, sharing the same body proportions and upturned head spikes. However, Hyper Sonic flashes in all seven colors of the Chaos/Super Emeralds and has large flashing sparks (similar to the Invincibilityitem) floating around him. Also, when moving, he leaves several after-images.
Powers and Abilities
Hyper Sonic has unlimited speed. His strength is unknown and incalculable. He also has all of Super Sonic's abilities, such as invincibility to all attacks, improved speed and strength, and greater jumping abilities. Since Hyper Sonic is generally an upgraded version of Super Sonic, it can be assumed that all of Hyper Sonic's physical abilities surpass that of Super Sonic's. Hyper Sonic also has some new and improved abilities: while Super Sonic is near invulnerable, Hyper Sonic is completely invulnerable towards physical harm from attacks and the environment, however, he can still die by being crushed, falling into a pit, or running out of time. He also can breathe underwater and has the added ability of a devastating lightning attack. This can be used to launch him in any direction and, when performed, destroys all enemies on-screen (except bosses) with a bright flash.
As with all Chaos Emerald/Super Emerald-caused transformations, once Hyper Sonic runs out of Rings, his transformation will end and will revert back to normal.
Community content is available under
CC-BY-SA
unless otherwise noted.