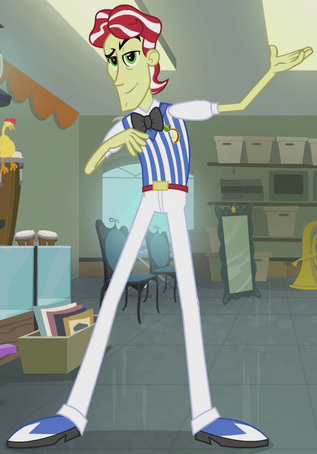 Flim is a character from the My Little Pony: Equestria Girls franchise.
Flim is the twin brother of Flam and co-owner of the Flim Flam Brothers' Everything Under the Sun Emporium.
In the AWA fics, Flim appeared at Chapter 6 of All Worlds Alliance Mission - Rainbow Rocks.
Appearance
Flim is a tall and very slim man. He has a pale, olive skin tone, a curly red hair with white stripes and has pistachio eyes. He wears blue & white striped vests over white shirts and black ribbon ties and white pants with a red belt and blue & white leather shoes.
Overview
Flim and Flam only appear in the short A Case for the Bass, where they run a pawn shop called "The Flim Flam Brothers' Everything-Under-The-Sun Emporium". The brothers try to swindle Applejack when she comes to retrieve her bass guitar that Granny Smith had accidentally sold them at a garage sale for two dollars. When Applejack proves her ownership of the bass, the two compromise her into working as their costumed spokesperson to pay off the instrument.
Trivia
Flim has a pony counterpart with the same name.
Gallery
Community content is available under
CC-BY-SA
unless otherwise noted.