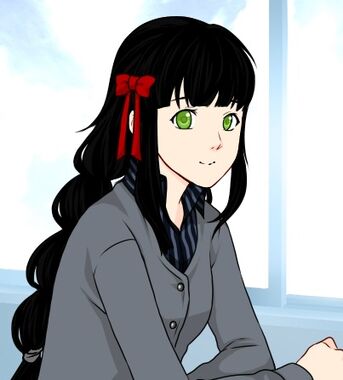 Emiri Yamanaka is a character from the XP4 Series of Fanfics.
Emiri is a 19 years old young woman and a good friend of Anna Maymorie.
Emiri debuted in the XP4 Heroes Coalition - Neo-City Diaries.
Appearance
She had a long and straight black hair that is tied into two small white hairbands and forest green coloured eyes. She is currently wearing a white button up shirt with a white and periwinkle coloured pinstripe skirt. A turquoise neck tie is accessorissed alongside navy knee-highs, a light grey blazer, and black ankle boots.
Personality
She shows a shy personality, especially concerning work that she has personally done. She is timid, self-doubting, and quiet; usually very soft spoken and meek, but can give great advice when the time is right. Emiri isn't very great at conveying her emotions.
XP4 Fanfics
Emiri is currently working in both Heroes Coalitions and Vanguard Academy as a staff member that works with various activities.
XP4 Heroes Coalition - Neo-City Diaries
In Chapter 22, Emiri, alongside Anna Maymorie, Jeremie Belpois, Chihiro Fujisaki and Terrence Ohno, are seen working on their desks in the staff room somewhere in the Training Camp when they heard a buzzing noise. They then turn to see Taco Talberts with a blender in hand while Dan Gotanda is seen standing behind him with a murderous expression.
Trivia
Emiri shares a room with Erika Yaeger, Anna Maymorie and Fabia Sheen.
She calls Anna, "Anchan".
She is one of Anna's five best friends.
Emiri seems to gain interest to Hifumi Yamada after he saved her from a groper.
According to XP4Universe, his ideal voice actress for Emiri is Andrea Libman (Fluttershy from My Little Pony) and Minori Chihara (Yuki Nagato from Melancholy of Haruhi Suzumiya).
Gallery
Community content is available under
CC-BY-SA
unless otherwise noted.