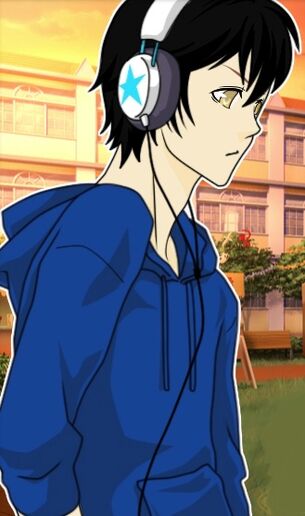 Denton "16 Years Old" Gibson is a character from the XP4 Series of Fanfics.
Denton is a member of the Heroes Coalitions and is part of the DAN Army. He also attends Vanguard Academy as a student.
Denton has an older sister named Carmella Gibson.
Appearance
Denton is a young man with a short stature. He has a messy black hair and has honey-yellow eyes. He wears a blue hoodie jacket, black pants and red & white sneakers. He also wears a white headset with a blue star.
Personality
Denton is quite an obnoxious person, slightly perverted and noisy. He is desperately trying to get famous to no avail.
Despite his attitude, Denton has standards.
Abilities
Denton is a Blessed with a Gift which he named Super Rolling Speed Ball that gives him the ability to turn his entire body into a giant billiard ball with eyes and mouth. In this form, he is intensely fast, agile and can topple down or flatten anyone comes towards his way.
Trivia
Denton's Gift is similar to Mario from Law of Ueki.
According to XP4Universe, his ideal voice actors for Denton are Kyle Taylor (Matthews from Red vs Blue) and Hiro Shimono (Tadashi Karino from Special A).
Gallery
Community content is available under
CC-BY-SA
unless otherwise noted.