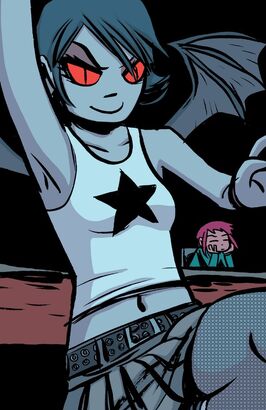 This article uses material from the "Demon Hipster Chicks" article on the Scott Pilgrim Wiki at FANDOM is licensed under the Creative Commons Attribution-Share Alike License.
The Demon Hipster Chicks are antagonists from the Scott Pilgrim comics, video game and film.
The Demon Hipster Chicks are either demons that work for Matthew Patel, or are illusions created by his powers.
In the AWA fics, the Demon Hipster Chicks are part of the Apostles of the New World.
Appearance
Demon Hipster Chicks has grayish-blue skin tone, they had red eyes and black short hair. They wears a fray top with a star logo, denim skirt with belt, socks and sneakers, and demonic wings.
Abilities
Like Matthew, the Demon Hipster Chicks can levitate and throw fireballs. 
Trivia
For the appearance of four separate Demon Hipster Chicks the film, Christine Watson did different takes for each Chick, rather than having the same performance replicated.
Gallery
Community content is available under
CC-BY-SA
unless otherwise noted.