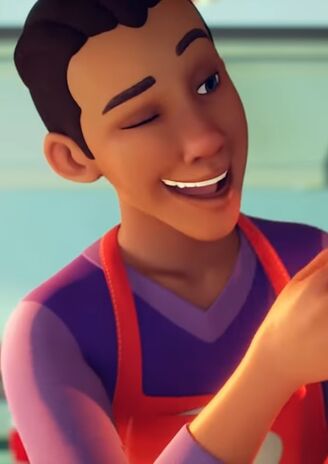 This article uses material from the "Dean" article on the LEGO Friends Wiki at FANDOM is licensed under the Creative Commons Attribution-Share Alike License.
Dean is a character from the LEGO Friends - Girls on Mission animated series.
Dean works as a waiter in the Drifting Diner. Dean is also a member of the Shadow Group, and appears to be friends with fellow members Dottie and Ethan.
In the AWA fics, Dean debuted in All Worlds Alliance Stories Chapter 28.
Appearance
Dean is a slim and tall, young man. He has a brown skin tone, a dark-brown hair held back in dreads by colorful pins and has blue eyes. He wears an orange apron over a lavender long-sleeve shirt, blue pants and white sneakers.
When not at work, Dean wears a black hoodie sweater.
Personality
Dean is a pretty chill and cool guy, and is pretty swag. Dean is very loyal and is willing to help anyone in need. He is also prone in speaking sarcastically.
Trivia
Dean was a Go-Karting champion and raced in a team with Daniel.
He is also well aware of Dottie's racing history, including her friendship and feud with Hazel.
Gallery
Community content is available under
CC-BY-SA
unless otherwise noted.