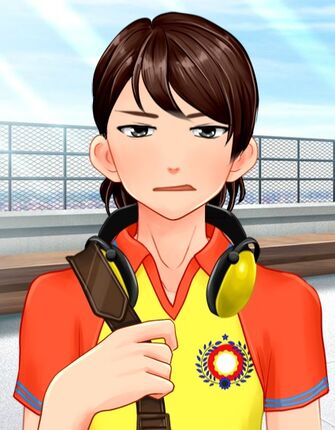 Dac is a character from the XP4 Series of Fanfics.
Dac is a 14-year old young man who works at a local laundry shop. He is best friends with Felipe Ignacio and Bud Bison.
Dac debuted in the XP4 Heroes Coalition - Neo-City Diaries.
Appearance
Dac has a thin physique and had a pinkish skin tone. He had a medium-length brown hair and dark eyes, he is currently wearing an orange sleeved yellow shirt, red shorts, white socks and dark orange shoes with black buckles and gold laces. He also carries a brown bagpack.
Personality
Dac is a friendly, sociable person who would say hi to anyone, and would help people he knows if he happened upon them. He does, however, get deeply offended when someone forgets his name. When one of his friends forgets his name, he scolds them, and will even hinder their progress if he can.
XP4 Fanfics
Dac is a member of the Heroes Coalitions as a trainee. He also attends Vanguard Academy as a student.
XP4 Heroes Coalition - Neo-City Diaries
In Chapter 5, Dac is seen alongside Mato Kuroi, Taro Yamada, Red, Karizza Stronghold, Sakura Kinomoto, Kaoru Matsubara, Maya Sparrow, Haru Glory, Shana, Sylvia van Hossen and Erena Reese are seen gathered inside the training area in the Training Facility. They all wonder about the decreased members in their group when Vegeta arrives and revealed that a lot of trainees drops out, much to their shock. Later, Son Goku arrives and reassured everyone that training goes on, Goku then ordered everyone to do a 500 laps, much to their dread and annoyance, Goku then minimized it to 20 laps.
In Chapter 6, Dac is mentioned by Regan Bladeworks.
In Chapter 12, Dac is seen running around the Training Facility when Raya Amanda chases Alden Cole around with a machine gun.
Abilities
It is unknown what Dac is but he seems to have superhuman strength as he can carry things twice his size.
Trivia
According to XP4Universe, his ideal voice actor for Dac are Lyon Smith (Corey Jaron Griffin from Groj Band) and Minoru Shiraishi (Takeshi Saihara from DNAngel).
Gallery
Community content is available under
CC-BY-SA
unless otherwise noted.