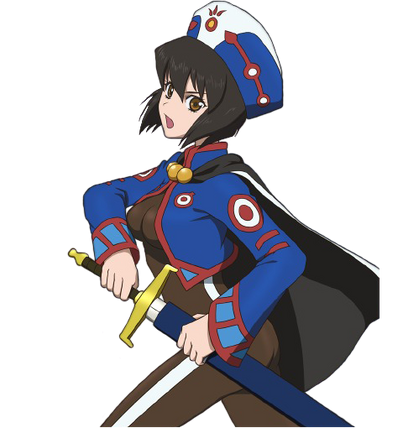 This article uses material from the "Chloe Valens" article on the Aselia at FANDOM is licensed under the Creative Commons Attribution-Share Alike License.
Chloe Valens is one of the protagonists in Tales of Legendia game.
A knight from Gadoria who joins the party. She came to the Legacy to find a swordsman with with a snake tattoo on his arm. She fights using a sword, and plays a little more like the classic Tales Series Hero, even using many of their artes combined with some of her own.
In the AWA fics, Chloe is a student at the AWA Academy.
Appearance
As a beautiful girl that she is, she wears her black hair short and has brown eyes. She wears some sort of hat on her head. On her body, she wears a tight-fitting bodysuit with a long-sleeved jacket over it. A short cape drapes over her jacket, connected together by some sort of clip. On her waist, she wears a blue buckle where her sword is attached. Lastly, she wears a pair of high-heeled boots.
Personality
This young woman is a practitioner of iron eres and has an extraordinary talent with the sword. She is single-minded and focused in achieving her goals, sometimes to the point of irrationality towards other people. Most of the time, she appears very serious and determined, but she also has moments of exuberance, and occasionally worries about silly things, such as her weight or the possibility of turning into a monster. She also has strong feelings for Senel and is initially jealous of Shirley. Chloe does not know how to swim, a weakness she takes very seriously.
Abilities
Because Senel does not use a sword in combat, Chloe takes up the role of the main swordsman of the party. She has a bit more range than Senel and like other swordsmen in Tales games, she has the ability to string together long combos. A very important skill in her arsenal is her Compound Eres, which allows her to counterattack while completely negating damage. Chloe is a well-balanced fighter with somewhat less HP than Senel, but has sufficient attack and defense to back up her position as one of the frontline attackers.
Trivia
Chloe is the first character from Tales of Legendia to be introduced in the AWA fics.
In the AWA fics, Chloe harbors feelings with Rook Blonko and has a rivalry with Mato Kuroi.
Chloe's name is derived from literature—in her case, the character Chloë from the 1947 novel, Froth on the Daydream, by French author Boris Vian.
Chloe holds the distinction of being the group's only female Iron Eren.
Gallery
Community content is available under
CC-BY-SA
unless otherwise noted.