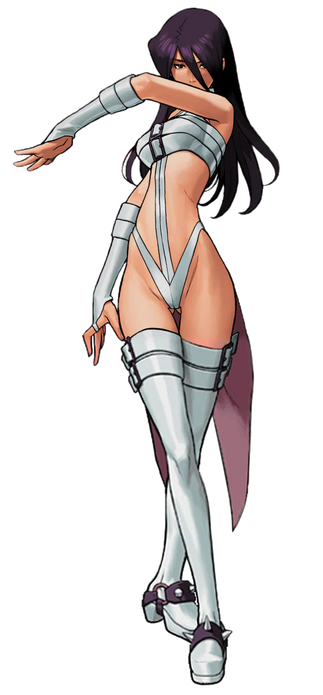 This article uses material from the "Cassandra Murata" article on the SNK Wiki at FANDOM is licensed under the Creative Commons Attribution-Share Alike License. 
Cassandra Murata is a character who appears in the Rage of the Dragons games.
At a younger age, Cassandra was an orphan and traveled the streets with Oni. Oni was a fighter, and during a particular street fight, he was badly beaten. Afterwards, Cassandra seeked out Elias for help, a preacher. Elias took Oni and Cass into his own care. He noticed that Cass had suffered from autism, and he helped her control her energy, in order to battle it.
In the XP4 fics, Cassandra is a member of the Heroes Coalitions and is part of the Team G.O.A.T. (Greatest of all Time). She also attends the Vanguard Academy as a student.
In the AWA fics, Cassandra is listed as a purchased slave from the Slave Fortress. She is later rescued and became a student at the AWA Academy.
Appearance
Cassandra is a young woman with a long dark hair and has dark eyes. She wears a bandaged-strapped tube top, she wears a skimpy taped like bikini which exposes her hips and tights with a tailcoat attached at the back. She wears a long-sleeve fingerless gloves and a thigh-high white boots with spikes.
XP4 Heroes Coalition Fanfics
When not in battle, Cassandra wears a white trench coat and white boots.
Personality
A stark contrast to her brother, Cassandra is a mild-mannered pacifist. She withdraws herself from society to avoid upsetting or making her brother jealous.
XP4 Heroes Coalitions Fanfics
Cassandra is now more than willing to interact with others.
Abilities
While they were staying with Elias, he noticed that she had a form of high-functioning autism, and he helped her control her energy in order to harness it better. She fights using close-ranged defensive attacks with an angelic motif.
Holy Attacks - Cassandra can fuel her attacks with blue energy, often leaving a trail of feathers in her wake.
Translocation - Cassandra can translocate herself.
Sense - Cassandra can sense the presence of others.
Trivia
Cassandra's favorite food is fish.
Cassandra was an orphan who grew attached to Oni. After he lit their orphanage on fire, they escaped to the streets and made due with Oni's street fighting wins. However, once he got badly hurt in a match, she seeks Elias' help. The two orphans temporarily stay in his care until her brother attacked her due to his addiction to fighting. Unaware of the incident, Cassandra chose to tag along with him in the tournament, hoping to stave her brother's blood lust.
Gallery
Community content is available under
CC-BY-SA
unless otherwise noted.