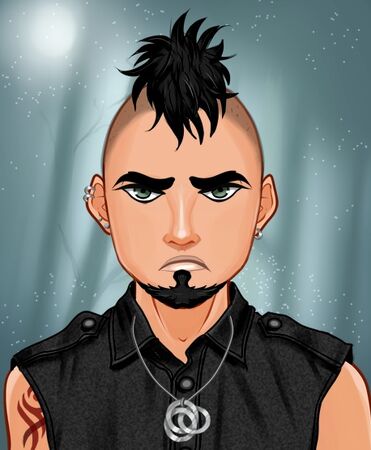 Bartlomiej Agbayani is a character from the XP4 Series of Fanfics.
Bartlomiej is a 20-years old Polish street fighter, a former football player and serves as Aerial Rush's bodyguard.
Bartlomiej is a member of the Heroes Coalitions as a trainee. He also attends the Vanguard Academy as a student.
Appearance
Bartlomiej is 6 foot ten tall with a light-brown skintone, he has a short black hair on top of his head styled in mohawk, he has dark gray eyes and a small yet thick goatee. He has piercing on both ears and red dragon-like tattoo on his right shoulder.
In his free time, Bartlomiej wears a gray muscle shirt, black jogging pants and white sneakers.
In combat, Bartlomiej wears a black denim vest with a silver necklace, black pants and black boots.
Personality
Bartlomiej is quiet and stoic, and does not speak a lot and once he do, he only shouts. Despite his imposing size, Bartlomiej sometimes acts as a peacemaker.
Abilities
Bartlomiej is yet to reveal his true capabilities.
Trivia
According from XP4Universe, his ideal voice actor for Bartlomiej are Jason C. Lee and Toshihiko Nakajima (both voiced Mokku from MAR).
Gallery
Community content is available under
CC-BY-SA
unless otherwise noted.