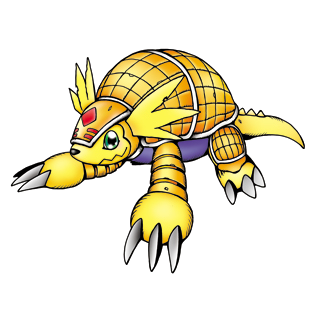 This article uses material from the "Armadillomon" article on the Digimon Wiki at FANDOM is licensed under the Creative Commons Attribution-Share Alike License.
Armadillomon is one of the main characters from the Digimon Adventures 02 anime.
Armadillomon is the partner of Cody Hida.
In the AWA fics, Armadillomon is a student at the AWA Academy.
Appearance
Armadillomon is a small glyptodont-like digimon with three-clawed limbs and a short tail. It is primarily yellow with a purple underside.
Personality
Armadillomon speaks with a Nagoya dialect and usually ends his sentences with "da'gya!". In the dub, this turned into a Southern United States accent. Armadillomon's easy going nature is a sharp contrast to his partner Cody's serious personality.
Abilities
Diamond Shell - Armadillomon curls up into a ball and rams into the opponent.
Scratch Beat - Rapidly slashes enemies using his claws.
Trivia
In the AWA fics, Armadillomon is currently dating Sistermon Noir.
Gallery
Community content is available under
CC-BY-SA
unless otherwise noted.