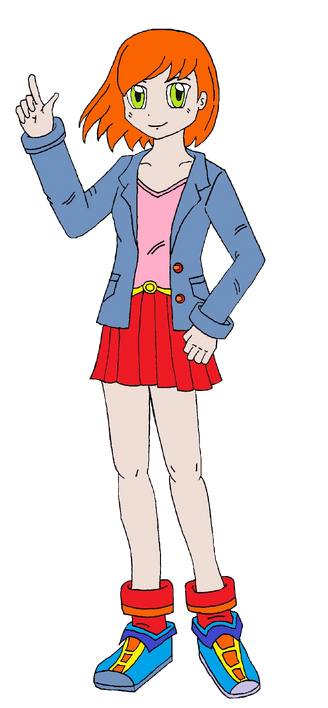 Anna Maymorie is a character from the XP4 Series of Fanfics.
Anna is a 19 years old fresh college graduate with fondness with beer and tacos.
Anna debuted in the XP4 Heroes Coalition - Neo-City Diaries.
Appearance
Anna has short caramel colored hair and has green eyes. She wears different clothing at work.
Personality
Anna had a bright cheerful personality, always striving to remain positive and a decent hard worker. However, she often gets nervous and would cave in to pressure if work is too unbearable. She is also hardworking and cares a lot for her friends and always tries to stay calm in stressful situations, and she is also a very energetic girl.
Anna is known to be a fast learner as she quickly learns how to cope with the everyday stresses of her job. Her diligence and determination to find a solution to every predicament has garnered the respect of many of her colleagues and acquaintances in the industry, alike. She is very persistent and patient when caught in between predicaments at work.
XP4 Fanfic
Anna works in both Heroes Coalitions and Vanguard Academy as a staff member that deals with various activities.
XP4 Heroes Coalition - Neo-City Diaries
In Chapter 6, Anna is seen alongside Danny Fenton, Jake Long, Randy Cunningham and Rex Salazar walking in the corridors of the Training Camp. Anna is showing the four around when they came across Regan Bladeworks, she then introduced the four to Regan and told her the bad news that a lot of trainees left the camp, shocking Regan but she reassured the princess that training goes on.
In Chapter 12, Anna is seen running around the Training Facility when Raya Amanda chases Alden Cole around with a machine gun.
In Chapter 13, Anna met up with Dan Gotanda and the Inaba Investigation Group outside the Training Facility and cried for his help which he obliged.
In Chapter 16, Anna, alongside a few, are seen eating pizza in the mini kitchen at the Training Camp when Chris Pearson and Fabia Sheen joined them. Later, Elise Pearson arrives in the kitchen, she and the others decided to leave the mini kitchen, so Chris and Elise can have a private conversation. After that, Anna and the others came back to the kitchen where Elise announced that she's joining the Heroes Coalitions, she watches the others stop Elise from killing Dan Mandel after the latter made an insulting comment to the former.
In Chapter 21, Anna is seen with Ichigo Kurosaki and Duncan Nelson having a conversation on a bench somewhere at the Training Camp in Neo-City.
In Chapter 22, Anna, alongside Terrence Ohno, Jeremie Belpois, Chihiro Fujisaki and Emiri Yamanaka, are seen working on their desks in the staff room somewhere in the Training Camp when they heard a buzzing noise. They then turn to see Taco Talberts with a blender in hand while Dan Gotanda is seen standing behind him with a murderous expression.
Trivia
Anna has a one-sided crush on Ichigo Kurosaki and is aware that he had a girlfriend.
Anna shares a room with Erika Yaegar, Emiri Yamanaka and Fabia Sheen.
Anna drives a sports car and is very good at it.
Erika calls her "Anyan" while Emiri calls her "Anchan".
According to XP4Universe, his ideal voice actress for Anna is Megan Fahlenbock (Jen Masterson of 6Teen) and Juri Kimura (Minami Wakaba from Monsuto Anime)
Anna hates Taco Talberts to the bone. But oddly enough, her favorite food is Tacos.
Gallery
Community content is available under
CC-BY-SA
unless otherwise noted.