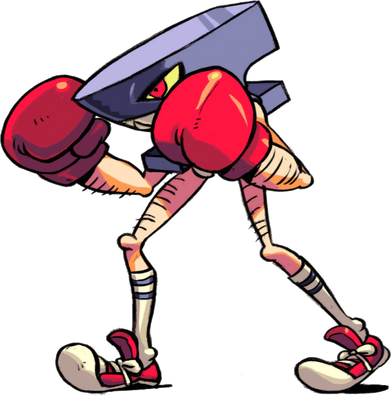 This article uses material from the "Andy Anvil" article on the Skullgirls Wiki at FANDOM is licensed under the Creative Commons Attribution-Share Alike License.
Andy Anvil is a character from the Skullgirls game.
Andy is a humanized anvil and is part of the Peacock's gang
In the XP4 fics, Andy debuted in the XP4 Heroes Coalition - Neo-City Diaries.
Appearance
Andy is a living anvil with red eyes and sharp teeth, he has arms with red boxing gloves and legs with socks and red sneakers.
Personality
Andy has a very fierce sense of loyalty to Peacock, and will attack anyone who even speaks ill of her. He seems to be overall friendly and enjoys wrestling and is also a fan of the wrestling champion Beowulf.
XP4 Fanfic
Andy is a member of the Heroes Coalitions and is part of the Peacock Gang. He also attends the Vanguard Academy as a student.
XP4 Heroes Coalition - Neo-City Diaries
In Chapter 15, Andy, alongside the rest of the Peacock Gang, reunited with Dr. Michael Pating in the decimated Lab 8 at New Meredian and were convinced to join the Heroes Coalition.
Abilities
Close-range fighter with some tricks up his...gloves? Punches, dodges, more punches, anvil-to-the-face.
In addition to being a ridiculous looking yet well-grounded boxer, he also teams up with Tommy Ten Tonsfor a variety of coordinated attacks. For example, Tommy could walk along the stage and serve as a slow moving shield. If Andy or the enemy sweeps him, Tommy falls over, causing the ground to shake and inflicting damage, or stunning any enemy touching the ground. If Andy strikes Tommy with a big hit, he might send Tommy across the screen like a torpedo.
Trivia
Andy Anvil's appearance was based on how Peacock sees Stanley. She thinks that he looks like a walking anvil with sharp teeth who likes boxing.
His proposed story mode would involve him attempting to retrieve Peacock's Toon Town Wagon.
Andy is said to be a sports nerd who enjoys boxing, basketball and rugby.
Gallery
Community content is available under
CC-BY-SA
unless otherwise noted.