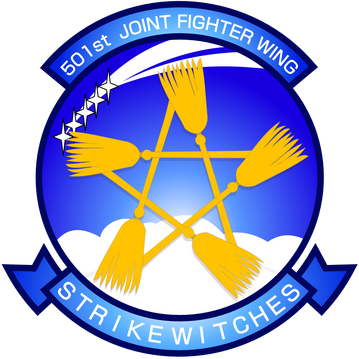 The 501st Joint Fighter Wing "Strike Witches" is a specialist unit comprised of several of the greatest aces of the time as the first established Joint Fighter Wing.
The unit was first stationed in Britannia under the jurisdiction of the headquarters of the Western World (under the command of Air Marshal Trevor Maloney) until the Liberation of Gallia after which it was disbanded.
The unit was reformed at the order of Air Marshal Adolfine Galland and was based in Romagna, on an island in the Adriatic Sea.
In the XP4 fics, the Strike Witches is allies with the Heroes Coalitions.
In the AWA fics, the Strike Witches is allies with the All Worlds Alliance.
Service History
In 1944 this Joint Fighter Wing was focused on the defense of Britannia and the recovery of Gallia, where their HQ was located on a strategic island in the Adriatic Sea.
Around October 1944, the unit was disbanded.
Six months later, around the Spring of 1945, the unit was reactivated and relocated to the defence of Romagna, being again deactivated after the liberation of Venezia.
Some months later, the 501st JFW was again reactivated after destroying a huge Neuroi that had attacked Karlsland.
They have shot down a large number of Neuroi.
List of Members
Commanding Officer
Commanding Officer in battle
Members
Former members
Pilot Officer - Laura Tóth
Community content is available under
CC-BY-SA
unless otherwise noted.